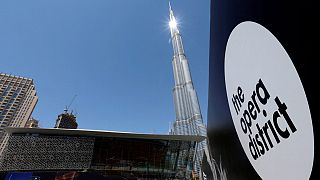 Dubai Opera, the purpose built multi-format performing arts theatre is well set to become Middle East's premiere arts centre.
The spectacular construction is based on the traditional dhow sailing ship designed by Danish architect Janus Rostock.
Music is a universal language, an artistic expression and testament to human creativity. Dubai Opera is its new home pic.twitter.com/WKuKM6xilf

— HH Sheikh Mohammed (@HHShkMohd) August 31, 2016
Giuseppe Verdi's 'The Barber of Seville' will open proceedings.
Stefano Pace is from the Fondazione Teatro Lirico Giuseppe Verdi: "The Lyric opera is spreading around the world. It always has been said that the opera is dead, this it is a demonstration that opera more than ever is alive and appetising and appealing, even in a city like Dubai, where everything seems to revolve around money, speed and technology. Here this auditorium is very nice, has a great flexibility, is very clean and above all it has what is needed and most important for an opera: it has excellent acoustics."
Plácido Domingo appeared on opening night to set the opera house on course for a spectacular first year.
You need to see Dubai's new opera house https://t.co/u6KjrKOqWfpic.twitter.com/gDKc2sUT4u

— Condé Nast Traveler (@CNTraveler) September 1, 2016
Jasper Hope is the venue's CEO: "It means a huge amount for the city and for the all country to add a level of live performance quality and experience for audiences here that they have not been able to enjoy in the past. That signifies something major and that is different to other cities where they possibly had theatres and opera for three or four hundred years in some cases."
The first four months will see an eclectic mix of orchestral performances, Indian classical music, ballet, flamenco and magic.