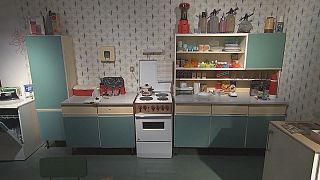 An exhibition celebrating Communist-era interior design and fashion has opened in Prague.
From TVs to sofas and kitchen crockery, the show features furniture and objects from the former Czechoslovakia.
It is a trip back in time when consumers had a limited choice, a time of uniform production not only in furnishings, but the simple electronics that were available and household objects.
As a result, many people had the same suites of furniture and even the same kitchen utensils.
"Most people identify themselves with the objects on display here. When parents come with their kids they can find one or two things they used to have at home and show it to their kids, they can remember what it used to be like and I think it is a great experience for everyone," said curator Robert Vujtek.
Many of the items here have been donated by the public. There is section dedicated to childrens' toys, another devoted to trekking and camping and even a room showing Communist-era fashion.
Aptly called Retro, the exhibition is housed in the famous Dancing House in Prague, designed by Frank Gehry and Vlado Milunic.
It runs until the middle of October 2016.