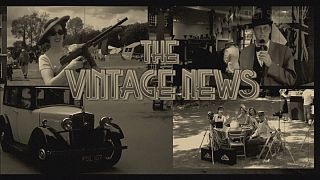 With the rise of social media platforms, such as Facebook and Twitter, all advancing how an audience consumes information, Vintage news is a blast from the past, looking backwards to find a niche to take its news forward.
It's the idea of Kieran Spooner, one of its main reporters.
He decided to pursue the idea after visiting 1940's-style events. To make it look real, Spooner turns up with a digital camera that is encased around the shell of a vintage one.
Spooner says: "Modern technology is brilliant I can't fault it but you lost so much of the romance.
"Until we started doing this I never owned a stills camera of any sort, so it was a harsh learning curve but I have got use to relaxing in front of the camera now, just about."
The Vintage News service mixes news with performance art. When its reporters show up in their vintage car, a 1930s Morris 10 – called Betsy – and their vintage dress they bring something unique to any event.
"What we try and do is make sure that we are filming monthly or annual events so that when people see our news reel they can actually decide to go along to the next one that what we feel is our purpose," Spooner adds.
The service focuses on fashion, lifestyle and glamour with articles from Victorian beachwear to 18th Century undergarment and Fashion on the ration, a look at how the war affected street style.
The Vintage News service's output itself can be found on the modern platform of YouTube and on its blog.