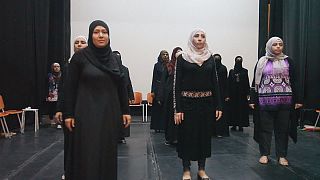 A group of refugees are taking to the stage in the UK to tell their stories through the play "Queens of Syria."
It's really given us a place to speak freely and tell our story and just let it go
The production is based on Euripides' "The Trojan Women."
Like the ancient Greek original, it is an anti-war story – but with refugee experiences blended in.
"The Trojan Women' is a play about war, it's about refugees. All the men are dead, the women are stuck waiting in a refugee camp to discover their fate and they're going off to be sold as slaves. And so, we thought let's do 'The Trojan Women,'" explained producer Charlotte Eager.
"But the point of this project, and this is the key thing, is it's not just drama therapy for the women in the cast, it actually has a really, really, important, awareness raising aspect for the Syrian refugee crisis as a whole."
Reem – who appears in the production – was in the middle of an engineering degree at Damascus University when war broke out.
She felt like she had lost all purpose in life, after fleeing her homeland.
"I lost my education, I lost my home, my neighborhood, my Syria. But this play really gave me the place to do something and it was really strange in the first place," said Reem.
"But, after that, afterwards, we really understand the aim of it and we really understand that it's really given us a place to speak freely and tell our story and just let it go."
The director of the UK Queens of Syria production has been impressed with the commitment and impact of her amateur cast.
"They are incredibly articulate, incredibly intelligent, very politically engaged, they know what they want to say, they know what they want to talk about, and I think that they were really keen, of course, to talk about their past experiences of what happened in Syria, but also to spend more time exploring who they are as people," explained Zoe Lafferty.
"Who they were before they became refugees, who they were before they experienced war, and also what their thoughts and desires and feelings are for the future."
"Queens of Syria" opened in London and is touring the UK.
It will be performed in Jordan in September, before going to other countries.
A documentary is also set to be made about it.