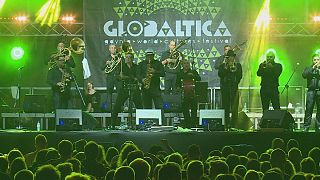 Every summer the Globaltica Festival invites its audience to savour the cultural diversity of the world through music.
It features artists inspired by the tradition and roots of the places from which they originate.
And it takes place every year on the Baltic Sea resort of Gdynia, Poland, a few miles away from where Lech Walesa and the Solidarity movement paved the way to democracy and the fall of communism in the county.
The festival was kicked off by Nagawang Lodup.
Lodup was a former Buddhist monk who fled to London because of artistic and religious oppression in Tibet.
His a cappella songs are typical of the nomadic culture of the Tibetan province of Amdo, where he grew up. He explains how he learnt his songs.
"I learned it when I was very young from my wonderful mother, says Lodup. "While she was carry me on her back when she was looking after the Yaks."
Turkish duo Çiğdem Aslan and Tahir Palalı perform Alevi songs from Anatolia, which date as far back as the 14th
century.
Alevism or Alevi is a mystical branch of Islam and Istanbul-born singer Aslan comes from a Kurdish Alevi background. Aslan says the music is one of the pivotal elements of the culture and it is important to keep it alive.
"This is a culture which has been persecuted or which has been assimilated so for us to perform this music is like a mission to keep it sustained."
Band leader Dino Manuelle formed Rancho Aparte 10 years ago to play the music that is typical of their region in Colombia.
"Our music is traditional music from the Colombian Pacific," Manuelle says. "We come from the Choco, a region situated between the Pacific coast and the Caribbean coastline of Colombia. We make traditional and folk music."
The Columbian band wants to send out positive vibes and make everybody dance. But it's not all about dancing and having fun. Festival director Piotr Pucylo says his mission is to make Poles more aware of other cultures and religions.
Pucylo says: "On one hand we would like to present and show diversity of the cultures from around the world but on the other hand we also have a mission to open Polish people to other cultures, other religions to make them more open for strangers.
"This kind of festival, this kind of project are very important all over the world not only in Poland."
Egyptian Project is one of the more striking bands to come out of Egypt, mixing the sounds of the Nile Delta and Cairo with the ambiances of trip-hop, electro, hip-hop, and even classical music.
French producer and musician Jérôme Ettinger teamed up with some of the best Egyptians musician such as percussionist Ragab Sadek, rababa player/violinist Salama Metwally and singer Sayed Emam to give traditional music a new twist.
Fanfara Ciocârlia is a very popular Romani Balkan brass band from the northeastern Romanian village of Zece Prăjini.
They are known for high-energy beats designed to get you moving.
Band member Tifan Costica says: "Our music is for everybody, it's music to make you happy, to dance because the rhythm are made for dancing. It's music which touches the heart.
Since 1996, Fanfara Ciocârlia have played more than two thousand concerts in more than 70 countries. They'll celebrate their 20th anniversary with a world tour
Our correspondent Wolfgang Spindler says: No matter where the musicians come, here at the Globaltica festival they are welcomed with open arms and sparkling eyes – every evenings a great vibes and a good mood.