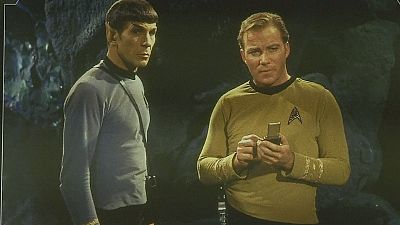 Star Trek fans – or "Trekkies" – can finally experience how it feels to be on the Starship Enterprise at an interactive exhibition in New York celebrating the 50th anniversary of the TV series.
It was a seminal show

Star Trek actor
Called Star Trek: The Starfleet Academy Experience it lets fans step into the role of a Starfleet Academy cadet and learn about different specialties of the academy from communications and medicine to navigation and science.
Actor George Takei, who played the role of Hikaru Sulu, helmsman of the USS Enterprise, called it a "seminal show".
"We began in April of 1966 and at that time it was a show that was just beginning … really a unique science-fiction show," he said.
"Essentially I hope that when they go through this exhibit, that they will be inspired to test themselves, to become what they would really passionately love," Takei added.
Highlights in the show include Leap Motion, a Medical Tricorder table with RFID sensors and planet projection mapping. Original props and costumes from the TV show are also on display.
The exhibition runs until the end of October at New York's Intrepid Sea, Air and Space Museum Complex.
William Shatner, who played Captain James T. Kirk, will appear at a convention held at the comlex called "Boston Comic Con" on August 12. The following day he will meet fans before the convention ends on the 14th.
Next February the exhibition will move to the Telus Spark Science Center in Calgary, Canada.