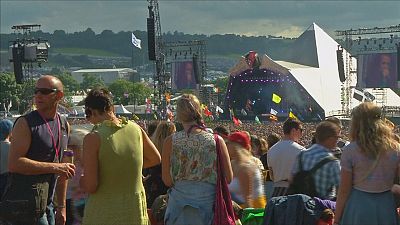 It wasn't the rain or the mud that crashed the party at this year's Glastonbury Festival – it was Britain's vote to leave the EU.
I think we're just going to move abroad and never come back to England
A survey of more than 1,000 of those gathered at the iconic music festival in Somerset, England, showed 83 percent voted against a Brexit. And while the lineup of performers certainly helped, some attendees struggled to shake off the shock after the vote.
"I think we're just going to move abroad and never come back to England," said 23-year-old Ed.
Some performers, including Damon Albarn and Foals frontman Yannis Philippakis, shared their sadness from the stage.
"My heart is broken," Albarn told the crowd gathered at the Pyramid Stage to watch him play alongside the Orchestra of Syrian Musicians, a group of musicians who fled the Syrian civil war whom he has brought together from around the world. "Democracy has failed us."
Posh kids (£230 tickets) and bubble-dwelling has-been pop stars think that they speak for the people. Snork. #Brexithttps://t.co/ok97VGLohZ

— Steven Winstone (@steven_winstone) June 27, 2016
'Glastonbury stands for everything our generation wants' – the bands railing against Brexit https://t.co/RaxatcOMuHpic.twitter.com/fnAdOOpRFs

— The Independent (@Independent) June 25, 2016
Politics aside, the 150,000 festival goers could enjoy some pretty good music from headliners such as Jess Glynne, rock n roll veterans ZZ Top, but also Ellie Goulding, Coldplay, Muse, and of course 28-year-old superstar Adele.
Labour leader Jeremy Corbyn, who had campaigned for Britain to stay in the EU, had been scheduled to talk at the festival on Sunday, but he pulled out.
Jeremy Corbyn 'pulls out of Glastonbury to focus on Brexit and EU referendum issues' https://t.co/NyqqI5gVBD

— The Telegraph (@Telegraph) June 24, 2016