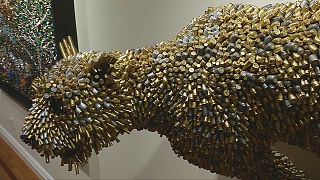 Colombian-born artist Federico Uribe has been exhibiting in New York his powerful animal sculptures made out of used bullet shells.
They are life-like, they have their own life force
The artist says his work is inspired by the decades-long conflict between the Colombian government and the rebel group FARC.
"(Making) beauty out of these testimonies of death, that is what I am trying to do. There is (are) all these ugly memories related to these objects and I am trying to make something that make people find beauty in pain. So I just needed to do it."
Uribe, who studied at the University of Los Andes in Bogota and is now based in Miami, also uses every day objects – such as pencils and piano keys – to create his pieces.
The exhibition 'Federico Uribe, Animals and Friends – In Pencils, Books and Bullets' has been on show at the Adelson Gallery in New York – with plans to extend the run until the end of July.
Adelson Galleries director Warren Adelson says of the exhibition: "It's not just the fact that this is made out of bullet shells, or piano keys or coloured pencils.
"You realize that they are done so well, that they are life-like, they have their own life force."