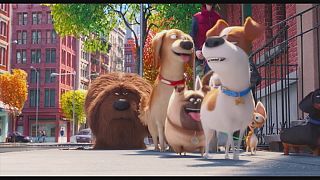 Have you ever wondered what pets do when their owners leave them home alone? Well that's what "The Secret Life of Pets" is all about.
The movie centres on a Manhattan Apartment building. Max starts to feel neglected as favourite pet. He has his life turned upside down after his owner brings home a large mongrel named Duke.
The pair get lost and find themselves on their way to the pound, before being rescued by white, fluffy – and psychotic – bunny rabbit, called Snowball.
From the humans who brought you Despicable Me, see #TheSecretLifeOfPets first on June 18 & 19.
In cinemas June 24.https://t.co/DiAU4cGJH8

— UniversalPicturesUK (@universaluk) June 7, 2016
Kevin Hart who played the voice of Snowball, explains what was so good playing a bonkers bunny.
"The premise of the movie was amazing and the opportunity to play the edgy animated character," says Hart.
"I think those are the ones that are most fun, where you can put levels in there and you're able to improv, you're able to create situations and just bring more light to what's already on paper.
"I would jump at it a thousand times, so this was number one out of a thousand. I got lucky."
Max and Duke have to put their quarrels behind when Snowball and his army of the abandoned who call themselves the "Flushed Pets" hatch a plan to exact retaliation on all happily-owned pets and their owners.
When it comes to his own dogs, Hart says that he's "probably one of the best pet owners on the planet".
He admits buying them some useless gadgets: "I went through that dumb phase of buying my dogs a bunch of stuff that they don't use like beds, water fountains where your dog can put their paw on a water fountain and the water comes up and your dog drinks from the water fountain.
I also bought my dogs a TV. It's like a stick-on TV and you just put it on the wall but it's dog level and the dog is supposed to be able to push in with his nose, it pushes the TV thing in and the TV comes on, it's like a button. The dogs have never pushed that thing one time!"
"The Secret Life of Pets" is directed by Chris Renaud from the Despicable Me franchise and co-directed by Yarrow Cheney.
The film releases worldwide from the end of June.
Planned release dates:
Norway 24 June 2016
Canada 8 July 2016
USA 8 July 2016
Argentina 21 July 2016
Chile 21 July 2016
France 27 July 2016
Germany 28 July 2016
Hungary 4 August 2016
Spain 5 August 2016
Greece 18 August 2016
Portugal 18 August 2016
Russia 18 August 2016
Ukraine 18 August 2016
Italy 6 October 2016