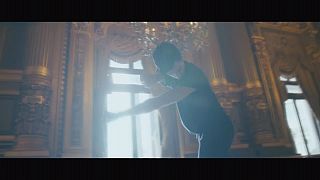 Benjamin Millepied's tenure at Paris' premier ballet company is the subject of a new documentary by French filmmakers Thierry Demaizière and Alban Teurlai.
'Reset' follows Millepied as he attempts to put on his first production, 'Clear, Loud, Bright, Forward' as director of the famed Paris Opera Ballet.
The world-famous dancer and choreographer says the film accurately captures the ups-and-downs of his efforts.
"The reason I was opening with a new piece of mine is I think because the best way to work with the dancers in the company is to be in the studio with them and, you know, to choreograph them by using their abilities and pushing them, which is kind of my way to show a new direction and it was an important moment that I wanted to capture on film," says Millepied.
Millepied famously quit the Paris Opera in February this year, just 15 months after taking the reins, and is frank in his criticism of the 335-year-old institution.
In a press statement, Millepied cited ""personal reasons"":http://www.telegraph.co.uk/news/worldnews/europe/france/12140934/Black-Swan-choreographer-Benjamin-Millepied-resigns-from-Opera-de-Paris-after-just-one-year.html for leaving and remains convinced it was the right decision for him.
"I was trying to bring life and give everybody a fair chance in the company in a company that has a lot of hierarchy and sort of an old system," he observes. "I think the film says everything in a way. I left because I wanted to, I have no time to lose in the way I want to be able to construct and build something that really represents my vision."
Millepied – who is married to actress Natalie Portman, whom he met while choreographing the 2010 movie 'Black Swan', which earned her an Oscar – says he has watched the documentary only once and it reminded him of how much work he put into the position.
The film was shown on French TV last December, just few weeks before he left the Paris Opera. 'Reset' will hit French cinemas in June, and north America in the autumn.