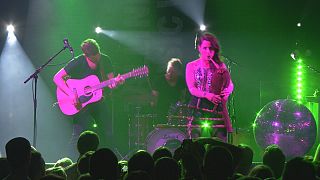 Founded in 2009, Tallinn Music Week has grown into one of northern Europe's biggest indoor festivals.
We use quite weird instruments: Estonian bagpipe, Jew's harp, some whistles, guitar and drums
Also serving as a showcase for art exhibitions, food and drink, design and public forums, the festival features some 250 carefully chosen acts from 35 different countries.
Euronews' Anja Bencze went along and selected some of the most unique moments of this year's edition. Among them was a gig by legendary British post punk band The Membranes together with Estonia's all female Chamber Choir Sireen.
The band's vocalist John Robb told Euronews how it came about.
"I'll tell you what happened. I saw the Sireen choir play at Tallinn Music Week last year and I thought their performance was completely mesmerising," he said. "The voices sounded really beautiful. And I thought this would work with our music because I think, if you've got two opposites, it always really works in music."
The concert was part of The Membranes' world tour to promote their acclaimed comeback album 'Dark Matter/Dark Energy', and included a single recorded with the Sireen choir.
'Sacrum Facere' is the latest project by acclaimed Estonian jazz musician Maria Faust. It's a song cycle written for brass ensemble, woodwinds, piano and kannel – a kind of Estonian harp – and brings together her two passions: contemporary classical composition and improvisation.
"Sacrum Facere means sacrificing human souls. My album is about females and how many females have been sacrificed in history. And it is still going on. All my tunes are about women. They have their own stories," Faust explained.
Power folk trio Trad.Attack! are the shooting stars of the Estonian Folk Scene. Long-time friends, they decided to create a band three years ago. Their first gig at Tallinn Music Week 2014 was an immediate success.
Band member Sandra Sillamaa told Anja Bencze how the band was born: "We had so many other bands, and we thought, 'We'll make one band where we can just play everything we wish.' We don't play for an audience, we just play for ourselves and just jam."
"We use old Estonian archive recordings on stage through the loopers. We use quite weird instruments: Estonian bagpipe, Jew's harp, some whistles, guitar and drums," added the band's guitar player, Jalmar Vabarna.
Trad.Attack! has already performed in 17 countries over the past two years, and has exciting plans for 2016, including gigs in China and South Korea.
Other eclectic offerings included a concerto by British cross-over composer Gabriel Prokofiev. Involving British World DJ champion Mr Switch, it was led by avant-garde Estonian conductor Kristjan Järvi.
"The 'Concerto For Turntables' is essentially written as a classical piece which includes some electronic elements, and that element is the turntable set – as you can see there's a DJ – and an orchestra," said Järvi. "But it can be so much more. What makes that possible is rhythm and movement and breathing and actually doing everything collectively as a band or an orchestra together."
Switch became the first DJ to have ever performed at the BBC Proms back in 2011 as the lead soloist in Prokofiev's 'Concerto For Turntables & Orchestra', conducted by Vladimir Jurowski and performed by the National Youth Orchestra of Great Britain.