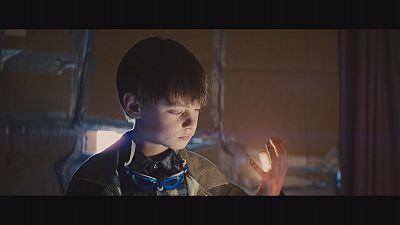 A father-son action escape movie firmly in sci-fi territory sounds like potentially dodgy ground, but this is the big return of Mud"s Jeff Nichols.
The south is never far away and still another land while Michael Shannon is again present for Midnight Special as Nichols weaves in a religious sect and federal task force to add to the tension.
Nichol made a splash with 2011's Take Shelter, but now in his late 30s is making his first studio picture, his fourth feature in all.
"One of the age-old questions is: Why are we here? What's the point? We all have to come up with our own answer to that. I think Roy, in the movie, is struggling with that before he has his son and then once he has Alton, he realizes that that gives him a sense of purpose and meaning that he hadn't had before he had a child, which I can definitely identify with as a father," says Shannon.
Shannon adds to his portfolio of memorable male leads and young Jaeden Lieberher has also gained praise for his work as his son. The new face enjoyed the masterclass from the old(ish) hand.
"Getting to know him and being on set with him everyday and doing different scenes with him, I got to see who he really was and he's just a really nice person and you can tell he's a good dad and him being a real dad made it so much easier for him and I to really get along."
The strong cast includes Kirsten Dunst, Alan Driver, Joel Edgerton, and a rare turn from Sam Shepard.
After the Berlin film festival and Germany, France, and Brazil and a very limited release in the US with good press, the movie is coming your way in April.
UK 8 April 2016
Ireland 8 April 2016
Netherlands 14 April 2016 (Imagine Film Festival)
Greece 21 April 2016