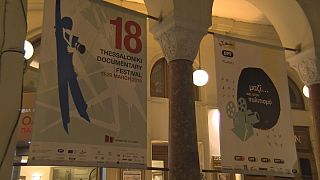 The burgeoning refugee and humanitarian crisis took centre stage at the Thessaloniki Documentary Film Festival. Several pieces showed shocking accounts of desperation and people's hopes for a better life.
The Audience Award for Best Feature went to "Landfill Harmonic – A Symphony of the Human Spirit", by Brad Allgood and Graham Townsley.
The film centres on the Recycled Orchestra of Cateura, a small town in Paraguay. Its slum-dwelling children learn to play instruments made from recycled rubbish; their story goes viral and the orchestra tours the world.
"Argo Navis" by Stelios Efstathopoulos and Susanne Bausinger won the Audience Award for Best Greek feature.
In 2003, a group of scientists began reconstructing a prehistoric ship as part of an experimental archaeology research programme. "Argo Navis" is this ship's tale, from choosing the trees to its two-year-long construction and its eventual voyage on the seas.
It took the Argonauts' mythical ship 10,000 strokes a day to sail from Volos to ancient Colchis. The modern-day Argo had to complete a 1,200-mile journey in 60 days.
"It was a dream-like journey back in time and then back to our reality," explained film co-director Stelios Efstathopoulos.
"We were shooting this film, at the same time that so many people were drowning in the sea. I felt very bad about all that," added co-director Susanne Bausinger. "The Argonaut expedition reminds us what the sea is about. It is a place where ideas, slaves, weapons and goods were exchanged and now must become again a sea of peace, coexistence of all Mediterranean people. A place of cooperation of all mankind, instead of being a grave."
Maro Anastopoulou won the international film critics prize (FIPRESCI) for a Greek Film for her documentary "Whispers of the Sky". It follows two remote Greek islanders on Amorgos, Captain Constantis and shepherd Leonidas, whose lives are defined by a common goal: reading the signs of the sky. They interpret centuries of knowledge to predict the weather.
Maro Anastopoulou said she didn't expect the gong: "It is very important for me, because this was really a homemade production. We did it together with my crew, who believed in this project.They all worked for free."
The festival also paid tribute to Northern Ireland's Mark Cousins, who is also a curator and a writer, living and working in Scotland. He began his film career in 1990 and told euronews he's fascinated by telling real-life stories.
"Truth is stranger than fiction. I think that it is kind of true. When you look what happens in the real world, when you look what happens in a city like Thessaloniki, you couldn't make it up. Life is so much a valley of tears and so much a mountain top, so fiction films seem slightly ordinary, compared to the astonishing range of emotions you get in documentary films," explained Cousins.
Tribute was also paid to Jon Bang Carlsen, one of Denmark's leading directors, who's well known for his unconventional views on the staging of documentaries; often blurring the boundaries between truth and fiction.
"I actually don't believe in these simple truths. I am not interested in truth. I am interested in honesty. I think we are all trapped within our own minds, behind our own eyes. The only thing I can do, as a film maker, is trying to portray what I find interesting, what I find emotional, as clearly, as artistically articulate as possible," said Carlsen.
This year also marked a coming of age for the festival as it celebrated its 18th edition. Its director, Dimitris Eipides, says its success is down to the people:
"I think the audience of Thessaloniki is responsible for the big success of the festival. The town embraced it from the beginning and supported it in every way. That's why it is the most important festival in the Balkans and it is also widely appreciated in Europe."
Our correspondent Yorgos Mitropoulos said: "For 10 days, Thessaloniki enjoyed about 200 documentaries from around the world. Always a sensitive oscilloscope of current issues, this festival focused on the crucial refugee problem and the humanitarian crisis. Greek film presence was impressive: 73 documentaries were shown this year, a record number in the history of the festival."