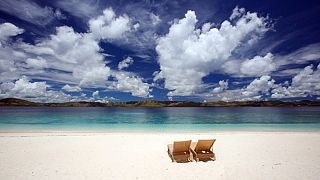 The capital city Manila pulsating with human energy; food that is a fusion of Spanish and Asian; pristine white beaches and clear blue oceanic waters ideal for diving; dancing, celebrating and fun; and at least 18 active volcanoes – these are just a few of many attractions to be found in the Philippines, an archipelago country stretching over thousands of islands. There is a multitude of reasons to visit this corner of the planet: we single out just five key ones – food, water, party, culture and nature.
Philippines' unique kaleidoscopic nature makes it stand among other countries in South-East Asia: whether you are eating out or snorkelling, dancing the night away or climbing a mountain, exploring an ancient temple or watching a rare species of birds there is always a sensation of being in several places at once. This country has redefined the eclectic by combining traditions, tastes and practices. Also this is where the toy yo-yo was arguably invented (before Ancient Greece), and you haven't been to a karaoke bar until you've visited one in the Philippines.

Philippine food: Asian with hints of Spain
Food: From Adidas and kwek-kwek to chorizo and green tea
Asian food is a magnet drawing millions of tourists to this part of the world every year. Yet the Filipino cuisine has its extraordinary twists – imagine eating a Spanish paella with chopsticks and plenty of ginger or washing down a chorizo sausage with green tea. The Philippines' culinary links with Spain are not just tradition passed on by generations in home kitchens.
An annual event Madrid Fusion Manila is dedicated to maintaining and deepening them – top Spanish and Philippine chefs congregate in Manila every spring to discuss and share their latest discoveries for the taste buds. But you can also head for the streets and try "kwek-kwek" (deep-fried egg, a distant cousin of the Scotch Egg) or any part of a chicken marinated in soy sauce, skewered and grilled, including "adidas", chicken feet.

Whale shark, also known as Butanding, can be observed in its natural habitat
Water: Blue or white or with the world's biggest fish
The seven thousand plus islands and coral reefs of the Philippines are surrounded by water, blue and idyllic. If Manila, one the most densely populated cities in the world, is too overwhelming, head for the ocean – to soak in the sun, to swim or dive, or for a mountain river to enjoy rafting in rapid streams.
Boracay Island south of Manila is a deserved pride and joy of the Philippines. In 2015 it received numerous international travelling destinations awards, including one from the unforgiving Tripadvisor. Boracay is renowned for its beaches, water sports and wind-surfing. Cagayan de Oro River on the Luzon Island is fantastic for white-water rafting.
If rafting won't hit you with enough adrenaline, you can visit the village of Donsol in the Sorsogon province, where snorkelling with huge whale sharks is on offer. No flash photography though, warns the company running tours .

Boracay Island: paradise redefined
Party: Just don't sing "My Way"
Philippines is home to multitude of venues for fun-loving visitors. You won't even need to travel far from Manila airport for a roaring night out – high end Opus Lounge and Republiq welcome well-heeled guests with open arms and fashionable DJs. You will find local celebrities in the exclusive Prive bar and M Cafe will impress you with a selection of exotic cocktails. But you can also try simpler joys of karaoke bars, enjoyed by the locals. Karaoke, one of the best-loved types of entertainment here, is to be found in all shapes and sizes – from bars of 5* hotels to shacks with retro TV sets. Just make sure you don't attempt a rendition of Frank Sinatra's classic "My Way" as the song has an unfortunate reputation for triggering fights . Chances are, the karaoke manager won't even let you try!

A white beach, a blue sky, an azure sea
Culture: from street festivals to prison dancers
The eclectic traditions merging the colonial past and the native ways of the Philippines come through in the architecture, in design and in the festivities. If you happen to be in the country in January, the Ati-Atihan Festival is a must-see. The festival takes place on the 3rd Sunday of the month on the island of Kalibo in the Aklan province. It is dedicated to Santo Nino, or Baby Jesus but is a visual melting pot of many traditions. Similar street festivities in the cities of Cebu and Iloilo are modelled on Ati-Atihan.
Love for dancing is not limited just to the free world. In mid-2000s a maximum security prison in the city of Cebu introduced dancing as a form of exercise for the inmates. The programme not only made prisoners fitter but also transformed into international stars as several videos of their performances went viral on Youtube. Cebu Provincial Detention and Rehabilitation Centre is managed by the Philippine Bureau of Corrections
A video of Cebu inmates dancing to "Thriller" by Michael Jackson has been viewed nearly 57 million times Some of the performances are open to the public.

Tarsier: bug-eyed, cute, endangered
Nature: Chocolate hills and big-eyed monkeys
The Island of Bohol has a reputation as the Philippines' natural jewel. It is worth a visit for at least two reasons: the wonder of the so-called Chocolate Hills – over 1200 limestone hills, nearly symmetrical in shape and also for a chance to see a live tarsier, one of the smallest primates in the world. Tarsiers look like cute bug-eyed invention of a cartoonist, yet they are very real as is real the danger of their extinction. Philippines Tarsier Foundation organises trekking for animal lovers and welcomes support.
If you enjoy watching big birds more than tiny monkey, then Davao City is worth a visit where one of the world's largest species of eagles come from.
And finally: Don't forget to yo-yo
Wherever you go in the Philippines, check out the art of street performers showing off their skills with a yo-yo. The small retractable toy is claimed to have been invented right here on this archipelago, rather than in Ancient Greece. Judging from what some of the yo-yo operators can do – Hercules wouldn't stand a chance!