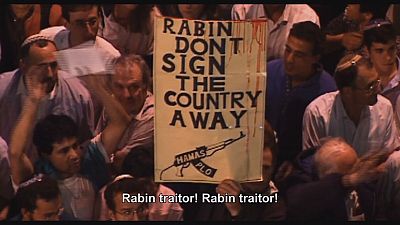 Israeli filmmaker Amos Gitai's docu-drama takes us back to the moments prior to the assassination of Israeli Prime Minster Yitzhak Rabin in 1995.
Rabin was killed by the Israeli religious fanatic Yigal Amir.
Yigal Amir, asesino de Rabin y paria de Israel – https://t.co/k5UfOC8YAz#Palestinapic.twitter.com/eyY5gJFHdz

— Diario El Palestino (@ElPalestino_com) November 4, 2015
The leader achieved what no other Israeli politician had imagined
a formal recognition of Palestine and in return the PLO's recognition of the state of Israel.
The filmmakers motivation was to look back to the moment when peace in the Middle East was within reach.
"Song for Peace" is written on blood-stained paper that was in Rabin's jacket pocket the day he was assassinated. pic.twitter.com/XKSVR9pPWF

— Friends of Rabin (@FriendsofRabin) December 4, 2015
Euronews' cultural reporter Wolfgang Spindler spoke with the director at the
International Film Festival and Forum on Human Rights in Geneva:"The assassination of Yitzhak Rabin blocked the peace negotiations and as a result we are still stalled today. You know, sometimes cinema is not only show business, its also a reflection about reality and sometimes if we bring back memories it means that we can make the memory help us erode this great hostility that we see now.''
Mourning Israelis stood by a memorial in 1995, at the site of Israeli Prime Minister Yitzhak Rabin's assassination. pic.twitter.com/a5ZTjYmnpZ

— Friends of Rabin (@FriendsofRabin) November 18, 2015
Despite the title, Gitai's film does not only deal with the events of Nov. 4, 1995, but also with what happened in the country in the days leading up to it and the investigation following his death: "The film calls on people to respect each other, not to be partizan in their beliefs. That is just unilateral. You know, to reconcile you have to understand the other and this is really what my film 'The Last Day of Yitzhak Rabin'
Rabin' is about."
Hommage à #YtzhakRabin, assassiné il y a 20ans par #YigalAmir#Israelpic.twitter.com/EYaQxMTVjp

— Assani Kimbenga (@kimbenga) November 4, 2015
The film is on international release.