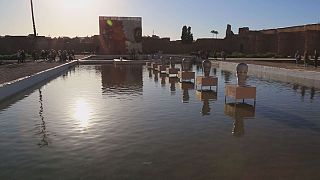 'Not New Now' is the theme of the art biennial in Marrakesh.
Curator, Palestinian Reem Fadda, has taken the event back to its North African origins.
The works are mainly from artists from the Arab World, the Mediterranean and Sub-Saharan Africa.
A number of exhibits are on show at the ruins of the 16th century Palais Badi.
The breathtaking view of the Atlas from Palais El Badi#followingmitomoroccohttps://t.co/9tXC9Xdmxdpic.twitter.com/P4h71CoOKR

— Mi (@Followingmi) March 10, 2016
Algerian Rachid Koraïchi has created a piece for his deceased parents entitled 'Prayer for Those Absent': "I wanted to tell the story of our amazing relationship by these words on the pieces of the palais that remain. After my life they will be here for my children and grandchildren. The story is also etched in an accompanying work. I am an artist thanks to my parents. They never stood in my way, they never blocked me, on the contrary they encouraged me to do it."
octoberlondon</a> <a href="https://twitter.com/MKechBiennale">mkechbiennale / rachid koraichi – algeria / #marrakechbiennale6#mkb6#con… https://t.co/LnxROHQHRspic.twitter.com/rc4ZROP0BZ

— Paul Facch (@paulfacch) March 1, 2016
A massive mock-up of a caterpillar bulldozer engine made out of leather, bone, wood, plasterwork, recycled steel and copper by is Belgium artist Eric Van Hove. The artist explains his motivation:
"This Caterpillar engine has interested me for a while now because it's a civilian engine, made for construction, but it's been used in warfare, in war zones since the Vietnam war. In Iraq and all the wars until now it's been used. And the piece in the Biennale, more specifically the D9T, which is one type of Caterpillar engine that is used in the West Bank and in Gaza."
Eric Van Hove "D9T" pic.twitter.com/7ogJZIsb6t

— Fabrice Ciaccia (@fabrice_ciaccia) December 11, 2015
Moroccan artist and designer, Sara Ouahaddou was inspired by the Berber jewellery first designed by prolific film maker, photographer and writer Ahmed Bouanani: "In terms of the drawings documented by Ahmed Bouanani, they are the designs of an amazing jeweller, I re-worked his jewellery designs. I rediscovered his technique, his materials and modified them. And so as to have a basis and a link to them I also used his folk tales as the basis for an imaginative interpretation. He was a great collector of popular Arab stories."
L'artiste marocain Ahmed Bouanani petit à petit tiré de l'oubli https://t.co/iLmWvDqRd0pic.twitter.com/CFIou68YsS

— Le Monde Afrique (@LeMonde_Afrique) March 11, 2016
The eye-popping works of three pioneering artists who brought a new aesthetic to Morocco in the 1960s are also on show. Farid Belkahia, Mohammed Melehi and Mohamed Chabaa's work create a lasting impression.
loftartgallery</a> loft_art_gallery mkechbiennale</a> / farid belkahia - morocco / <a href="https://twitter.com/hashtag/faridbelkah?src=hash">#faridbelkah</a>… <a href="https://t.co/jLK7JYUOC5">https://t.co/jLK7JYUOC5</a> <a href="https://t.co/OeV4TSEzib">pic.twitter.com/OeV4TSEzib</a></p>&mdash; Paul Facch (paulfacch) March 2, 2016
Marché de l'Art: en vente sur #Artprice Mohammed MELEHI – SANSTITRE – UNTITLEDhttps://t.co/6vrCAhYXgBpic.twitter.com/DwcCEAYBP5

— Artprice.com (@artpricedotcom) February 25, 2016
#l'artiste-peintre #Mohamed Chabaa 1935-2013 pic.twitter.com/2bfT7MA5h1

— khira (@LBS230) January 30, 2016
Yto Barrada is a Moroccan artist: "Young people are working with traditional crafts, re-using them, re-learning them. I'm have been learning how to sew and weave since I left Morocco. And also the place of craft in the history of civil movements, civil rights movements, or in feminist movements or in gay rights has always been very important- you know, all these considered low-arts- the crafts."
There are works to make you question, works to make you wonder.
The biennial pays tribute to French-Moroccan photographer, journalist artist Leila Alaoui who died in a terrorist attack in Ouagadougou, Burkina Faso earlier this year by a collective who recycle garbage.
#BurkinaFaso exhibition includes the beautiful final work of Leila Alaoui, tragically killed during the assignment pic.twitter.com/PXSpjsZmO4

— Salil Shetty (@SalilShetty) March 8, 2016
The biennial seeks to build bridges between cultures through art and Marrakech is the perfect place to do so.