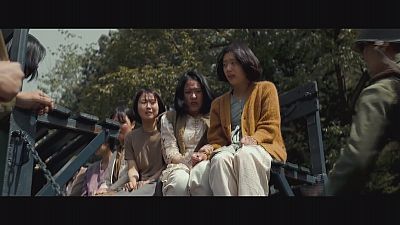 Spirits Homecoming is a South Korean film about comfort women and is based on the horrors experienced by so-called sex slaves in Japanese military brothels during World War Two.
I do not know what to say. My heart was too full for words
For Director Cho Jung-rae the inspiration for the movie came from a therapy session for former "comfort women" where saw a drawing called Burning Women. It depicted women being set on fire alive, with Japanese soldiers standing guard to ensure they didn't escape.
Cho said: "The grandmothers told me that if I was going to make a movie, I should make it well so that their stories could be told. That was the biggest motivation for me."
The premiere of the film was attended by surviving comfort women in their eighties and nineties.
The movie's doubtful commercial appeal meant it took 14 years and the contributions of 75,000 individual donors to complete. The film now tops South Korea's box office.
Fifty-five year old South Korean Kan Hyeon-Mi, who watched Spirits Homecoming, said: "I do not know what to say. My heart was too full for words. I hope that Japan will make most sincere apologies [to comfort women]."
1.31
Jeong Tae-Hyun from South Korean saw the film with his Canadian wife. Holding banners in Korean and English that said "Apologise Sincerely", he said: "The movie was produced by crowd funding in which I participated, and I felt very great seeing my name on the screen.
"I hope people will keep helping comfort women by engaging in social activities as well as making joint efforts for them until the Japanese government sincerely apologises to them."
The release of this film follows the landmark December accord between the South Korean and Japanese governments to "finally and irreversibly resolve" the issue with a Japanese apology to the women and a new fund of about 1 billion yen (eight million euros).
Activists estimate that there may have been as many as 200,000 Korean victims.