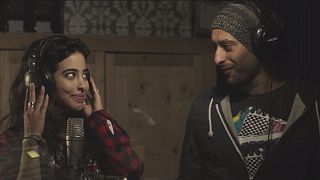 This year's Berlinale has turned up the wattage right from day one, and now the festival's Panorama programme gives us 'Junction 48'.
It's not about an old generation and new generation, its just about creating the right generation
Kareem lives in a mixed Jewish-Arab crime-ridden ghetto outside Tel Aviv. He deals drugs and lives dangerously. But one day Kareem decides to change his life, discovers hip-hop music, and decides to express his life as a Palestinian youth along with young singer Manar.
It is a project of Israeli-American filmmaker Udi Aloni who brings together Palestinian and Israeli musicians. For him just seeing the film made, and then shown at the Berlin Film Festival is already a success.
"Suddenly a group of people just choose to make a film and the film is extremely professional. It's very important that this bi-national energy can create high quality stuff, the high quality is almost the symbol of the resistance. We should not even have to tell the story about the issue. The fact that we could create it is amazing," Aloni told euronews.
Thirty-seven-year-old Arab-Israeli rapper Tamer Nafar plays the lead role, and has known the 56-year-old Aloni for some time.
"We have been on the same demonstrations, in the parties since 2000, so we live in each other's world. He has been to my concerts many times, he directed a video clip, I was in his movies as a producer a few times. It's not about an old generation and new generation, it's just about creating the right generation," he said.
"He has that gift of being a good story teller and director but he gives us the stage, no, he doesn't give us a stage, we are building a stage together like he has his own perspective but we are all on the same level," said actress Samar Qupty.
Although it is very much a music movie the struggle for equal rights for Palestinians or Arab Israelis inside Israel is its crucible. When the movie was shown at the Berlinale it proved to be a crowd-pleasing formula.
Watch this exclusive 360° video of Gerard Depardieu on the red carpet of the Berlinale