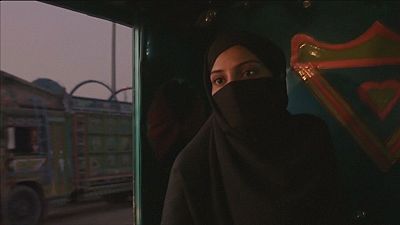 More than 1000 men and women died in honour killings in Pakistan in 2015 according to the film A Girl in a River: The Price of Forgiveness.
Many of these crimes, carried out by relatives who say their mostly female victims have brought shame on the family, are never prosecuted, observers say.
The Oscar-nominated film tells the story of a young woman, Saba, who survived attempted murder by her father and uncle after she fell in love, eloped and married a man who was deemed unsuitable.
Shameen Obaid-Chinoy, the film's director says: "You can go into small towns and villages across Pakistan and you will find that people think that honour killing is not a crime because nobody ever goes to jail for it.
"So, I wanted to start a national discourse about honour killings because people need to realise that it is a very serious crime.
"It is not something that is part of our religion or our culture and this is something that should be treated as premeditated murder and people should go to jail for it."
Saba's father and uncle were arrested and went to jail after the attack, but the young woman was ultimately pressured to "forgive" her attackers, an option under Pakistan law.
An act that would amend the law was passed by one house of parliament last year, but did not clear the other house due to delays.
Obaid Chinoy hopes the attention the film has received abroad and at home – including by Pakistani Prime Minister Nawaz Sharif – will help push the amendments through.
"For me, the greatest win of 'The Girl in the River' film would be that if the prime minister does take the lead, he brings the stakeholders on board and they pass the anti-honour crime bill 2014," she adds.
"This could be his [Sharif's] legacy to the women and his own family that no woman in this country should be killed in the name of honour, and if she does, then people should go to jail for it, so that other people don't take that step."
A Girl in the River: The Price of Forgiveness" is a scathing examination of the contradictions between modernism and tradition within Pakistani society and uncovers the clashing interpretations of Islam as it relates to human rights and family honor.
After the film was nominated, Nawaz Sharif congratulated Obaid Chinoy and pledged his government's commitment to rid Pakistan of the "evil" of honour killings by "bringing in appropriate legislation".
Sharif also invited the filmmaker to screen the film at his residence to an audience of the country's leading opinion makers from different segments of society, academics, and intellectuals.
The film is due to air on HBO in March.