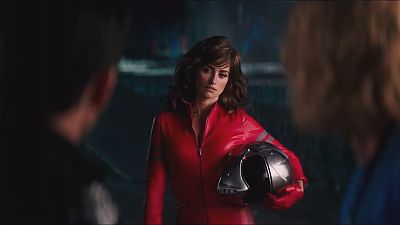 Ben Stiller is back as dim-witted male model Derek Zoolander in the sequel to the 2001 comedy hit.
In 'Zoolander 2', Stiller is surrounded by the original A-list cast including Owen Wilson and Will Ferrell, as well as newcomers like Benedict Cumberbatch as transgender model All, Kirsten Wiig as botched up beauty expert Alexanya Atoz, and Penelope Cruz as a secret agent tasked with recruiting Zoolander and his reluctant sidekick Hansel McDonald (Wilson) to take down an organisation intent on killing the world's most beautiful people. These include Justin Bieber, who plays himself in the movie.
Hitting the red carpet for the film's Berlin premiere, Cruz said: "I loved working with all of them. I mean, I didn't have any scenes with Will, and I'm a huge fan of Will, but I never saw him because, although it looks like we are together (in the movie), we shot it separately," she said.
"It was a pretty tight schedule and there were a lot of days where you're running around and wearing some uncomfortable corset you can't breathe in," said Ferrell, who returns as villainous fashion designer Jacobim Mugatu.
"Well, for me it was exciting when Penelope Cruz would come to work just because she's a great actress but so beautiful and looks so gorgeous in the movie," enthused Owen Wilson.
'Zoolander 2' hits theatres around the world from 11 February.