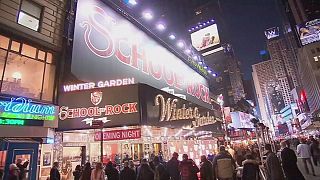 School of Rock' has opened on Broadway it is the latest musical by
Andrew Lloyd Webber with lyrics by Glen Slater.
The stage show is based on the film of the same name and follows wannabe rockstar, substitute teacher Dewey Finn, who forms a band with his young pupils.

'School of Rock—The Musical' sets national tour, London premiere a day after opening: https://t.co/MWS4vIhFA2pic.twitter.com/pdNp1DJV4w

— Entertainment Weekly (@EW) December 8, 2015
Andrew Lloyd Webber said the audition process took some time: "We saw 22,000 kids to get to our little band tonight and our cast. So how did we prepare them, it's taken a while. It's been about six months now since we first started working on it and we did a workshop performance of it, which went quite well."

BREAKING: School Of Rock to open at the London Palladium next year https://t.co/HJGGgPXwuZpic.twitter.com/tUyxocGY3I

— West End Frame (@West_End_Frame) December 7, 2015
The cast are completely wrapped up in the show as actor Alex Brightman confirms: "Not sure I'm still here right now. It feels like I'm still floating. There aren't words yet that have been invented for how I feel right now. I'm on cloud 789,".
'School of Rock' had its world premiere at Winter Garden Theatre on Broadway.
'School of Rock' crew have dueling pre-opening night parties: Pre-opening-night parties for… https://t.co/3MgzaR4j9lpic.twitter.com/MLUYBnnXfW

— NewYork (@NewYorkLoving) December 6, 2015