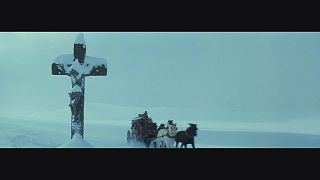 Set in post Civil War America, Quentin Tarantino new movie, "The Hateful Eight," is one icy Western epic.
It wasn't anything you couldn't handle, it just wasn't like doing a movie on the beach
During a blizzard, an odd bunch of violent strangers end up in the same Wyoming refuge. One thing is certain: not everyone is going to make it out alive.
Watch eight clips from Quentin Tarantino's The Hateful Eight. https://t.co/0CN7X8xGa4pic.twitter.com/iGwqwwv92F

— GameSpot (@gamespot) December 7, 2015
It's Tarantino's first movie since his 2012 hit "Django Unchained," and his eighth so far. The acclaimed director plans to make two more before he steps away from the camera.
"I don't make a movie every year, so probably we're talking about eight years from now," Tarantino said at the film's premiere in Los Angeles. "It's not like I'm going to live in a house by myself. I'll probably write novels, or write theatre and direct theatre, we'll see."
Like working in a freezer
Starring Samuel L. Jackson and Kurt Russell as bounty hunters and Jennifer Jason Leigh# as a fugitive, the film features Tarantino's ultra-violent touch and trademark monologues.
It was shot last winter in Colorado and on a sound stage the crew compared to a freezer.
"It wasn't anything you couldn't handle, it just wasn't like doing a movie on the beach," said Russell.
The three-hour film has earned three Golden Globe nominations: for best screenplay, best score and best actress in a supporting role.
Jennifer Jason Leigh says #HatefulEight, #Anomalisa are "two of the best roles of my life" https://t.co/PoVk9NOpz8pic.twitter.com/pE9Fkd63Wu

— Variety (@Variety) December 8, 2015
"The Hateful Eight" opens in U.S. theaters on Christmas in a special 70mm release and will hit the big screens worldwide early next year.
Here are eight things we learned at the premiere for Tarantino's "Hateful Eight." https://t.co/sP6eIiv641

—

USA

TODAY

(@USATODAY) December 8, 2015