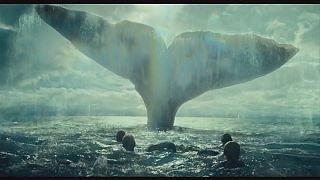 Nathaniel Philbrick's literary work comes to life in Ron Howard's new movie "In the Heart of the Sea".
The film charts the sinking of the whaling ship "Essex" and the endeavours of its crew to survive at sea. Howard says he's always been awed by the mysteries of the deep and did not have to look far for inspiration.
"I had some whale watching trips with my kids that I actually took the inspiration from in this movie. One time we had a close encounter where this grey whale was – a female – was actually floating around our ship to the point where the captain had to turn the ship off so the propeller wouldn't injure the whale," said Howard.
"She wouldn't leave and she kept popping up with this one eye and one time I was right next to the railing and she popped up right there and looked at me and I tried to actually put that moment into this movie because it's something I'll never forget."
Given his role in Marvel's Avengers and Thor, actor Chris Hemsworth is used to performing with CGI but he says it was quite a leap to imagine being chased by a giant whale.
"I didn't even know what the whale looked like until I saw the movie and said, 'Cool, that's what we were being stalked by.' But I guess it's our job to use your imagination and try to imagine whatever it is that you're looking at."
The real-life maritime disaster would inspire Herman Melville's Moby Dick but Howard's film explores more the survivors' struggle as they are forced to do the unthinkable to stay alive.
In the Heart of the sea is on general release across Europe this month.