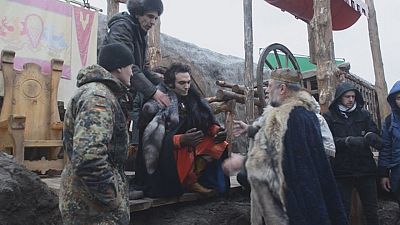 A fantasy movie is being shot in in Kyiv. It's called 'Polina' and tells the story of a young girl on a magical journey in search of the truth about her missing parents. It is set in different worlds – there is war and there is fantasy.
Behind the cameras are two award winners. Director of photography, Thierry Arbogast of international smash hit fame 'Lucy' and Olias Barco known for 'Kill me please' which won the Grand Prix at Rome International Film Festival.
"It's a children's movie, but I wanted to put some politics inside. We're shooting in Ukraine and we have a war scened inside. Of course I don't want to scare children too much, but I talked to Polina and asked her, "What are you afraid of?" And she told me "I am afraid of war because my country is at war," said Olias Barco.
The lead role is played by 11-year-old Ukrainian actress Polina Pechenenko. More than 1,000 girls auditioned for the part in Italy, France and Belgium but Polina was spotted quite by accident in Kyiv by the director.
"I haven't had any acting experience. I haven't filmed in a movie before. I always wanted to become a film director. Actually for me the most difficult task is to play emotions. Yes that's tough," the young actress told euronews.
The majority of the cast it made up of French nationals and one of the main roles, a Viking queen is played by French actress Virginie Ledoyen. She is well known for roles in "The Beach" with Leonardo diCaprio and "Eight Women" by Francois Ozon.
"It's my first time in Ukraine, my first time in Kyiv. And it's amazing how cinema could allow you to discover different countries and it is a universal language, so I don't feel like it's different from anywhere else," she explained.
The post production will be done by Ukrainian studio "Film UA". It is more profitable to shoot in Ukraine according to the director. For producers in Ukraine this kind of cooperation is a chance to make a name for themselves and to gain experience.
"When we work with the team which cooperated with Luc Besson or take part in big European projects that is a unique experience for us. And what do they get from us? All of them say that there's a lot of live here, there are great studios and talented Ukrainian actors you can work with," opined producer Denis Ivanov.
"Polina" has a budget of two million euros and is shot in English. The producers hope the move will be ready next spring and will have the chance to take part in the Cannes Film Festival. The official cinema release is scheduled for autumn 2016.