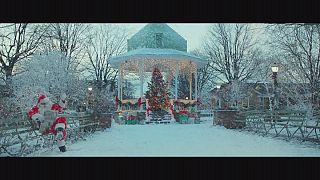 It is December, so we are finally allowed to talk about Christmas, and because here at euronews we want a maximum of festive fun for all, here's a roundup of three Yule movies to light up your tree this holiday.
"Love the Coopers" brings four generations of the same family together for the annual Christmas Eve celebrations, and is filled with warmth and good cheer as everyone rediscovers family bonds and the meaning of a good holiday. It stars Diane Keaton and John Goodman.
"We all bring our own expectations and gripes to Christmas, when we only see our families maybe a couple times a year. And it all seems to come out – like a boil. But these guys, they all have things that they want, but they kind of lose sight of what's important," said Goodman.
"The Night Before" is about three manchildren determined to have one last grand Christmas blowout before settling down to family life, careers and kids. There is more adult humour in this one, so not a film for all the family.
The stars hit the red carpet in LA to promote the movie, and the filmmakers conjured a winter wonderland under the Californian sun for the event.
"We tried for it to be a real Christmas movie and not just be like cynical of Christmas or Christmas movies. I think 'Bad Santa' actually did that also. This movie is not as dirty as that movie," said Seth Rogan.
Finally "Krampus" is a Christmas horror story where a family which has given up on the spirit of the occasion is haunted by a malevolent demonic force in which festive icons are sent to torment their victims.