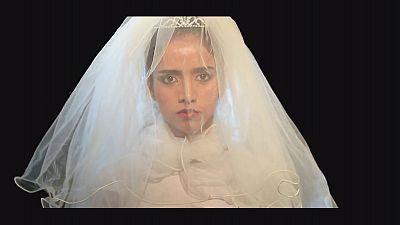 Afghan rapper Sonita Alizadeh, 19, was 10 years old when her parents first tried to sell her into marriage.
As a girl I can do something, I can make my future
In 2014, she uploaded a music video, 'Brides for Sale', to denounce the Afghan practice of selling child brides.
Her story is the subject of "Sonita", a documentary by Iranian film maker Rokhsareh Ghaem Maghami which has recently won the Audience Award, (€ 5,000) at this year's Amsterdam International Documentary Film Festival, (18-29 November).
"My mother, she was trying to force me into marriage, but that doesn't mean she didn't love me. She loves me, she was forced to close her eyes to love because she didn't know other ways, because she was forced to do that, because of tradition and because of poverty. Then through my songs she realized what is inside me. And as a girl I can do something, I can make my future," says Sonita.
Originally Iranian director Rokhsareh Ghaem Maghami wanted to tell the story of a talented girl who wants to become the first Afghan female rapper and her struggles to make a demo recording.
But Ghaem Maghami ended up paying $2000 to Sonita's mother so she could escape a forced marriage.
"The biggest challenge was of course her mom, when she came and she wanted to take her. You know the problem with that, if you want to help what would happen to the movie and if you don't help what would happen to a human connection? How can I just sit there and see that they are taking her?" says Ghaeam Maghami.
Sonita eventually earned a full scholarship to study music in the US where she lives now. She has become a heroine to millions of young women worldwide.
http://www.cineuropa.org/nw.aspx?t=newsdetail&l=en&did=302196
http://www.bustle.com/#/articles/117249-sonita-the-feminist-afghan-rapper-fighting-against-child-marriage-will-give-you-chills
ABOUTTHEDIRECTOR
Rokhsareh Ghaemmaghami was born in Tehran and studied filmmaking and animation in Tehran Art University. Her published essays and research include the book, "Animated Documentary: A New Way to Express," published in Persian in 2009. Her short documentary works include Pigeon Fanciers (2000), A Loud Solitude (2010), Born 20 Minutes Late (2010), Going Up the Stairs (2011), and the animated documentary Cyanosis (2007).