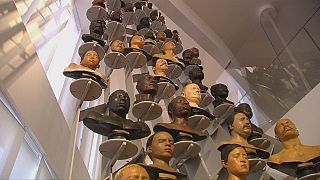 The Musee de l'Homme, or Museum of Mankind, in Paris, is re-opening after six years of renovation work.
It now boasts a host of new displays, showcasing prehistoric and ethnological artefacts.
The museum's curator says the permanent exhibition revolves around a set of key themes.
"We wanted to ask three questions. First, who are we? What is mankind? To show that mankind is part of the animal kingdom and that mankind is an interaction between biological and cultural elements," said Professor Evelyne Heyer.
"We're also asking 'Where do we come from?' It's the history of the evolution of our species. And the other question, it's a bit along the lines of, 'Where are we going?'"
A total of 700-thousand artefacts on show at the museum. It is a remarkable collection, presented in chronological order.
The displays are brought to life thanks to lots of hi-tech gadgets and digital tools. Eighty screens and 60 different interactive displays are on offer to visitors.
The museum says it wants to get people talking about the evolution of mankind.
"What we would like visitors to come away with are the big questions faced by society now, about man's adaption to himself. These, in the end, are questions that mankind has faced for 10-thousand years," said Jean-Denis Vigne, researcher and deputy museum curator.
"And it might be interesting to ask ourselves how humanity has resolved these issues, or not."
The French government's invested more than 96 million euros in revamping this historic museum, which first opened in 1938. It is hoped the fresh look will help to bring in even more visitors.