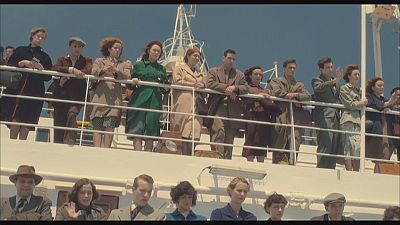 Set in Ireland and America, Brooklyn is the story of young Ellis Lacey, played by Saoirse Ronan, who finds herself torn between two countries and two men.
To see a story like this, told from the point of view of a woman, was very exciting for me.
The film has earned Ronan her second Oscar nomination, this time for Best Actress. She was already nominated for an Oscar at the age of 13 for her supporting role in the 2007 film 'Atonement'.
Born in New York, but raised in Ireland, Ronan felt it was important to get back to her roots in a film like this: "There has always been kind of specific stories told about our history and our experience and we've kind of done that now, so to see a story like this, which resonates with so many people, told from the point of view of a woman, was very exciting for me," she said.
Set in the 1950's, the film tells the story of Ellis Lacey, who migrates to New York and meets a man whom she secretly marries. After her sister unexpectedly dies, she returns home and stays longer than intended. While in Ireland she becomes romantically involved with a local man, and must decide whether to stay or return to her husband.
Ronan spoke of what she learned while making the film: "I was actually really surprised by how many children were sent over around that time and earlier. There were ten-year-olds that had been sent over a really long time ago and were sent over to family members or relatives who had already set up a life there."
The young actress' performance has drawn critical acclaim since the movie premiered at Sundance in 2015, as has Nick Hornby's screenplay adaptation of Colm Tóibín's acclaimed novel.
'Brooklyn' by John Crowley is out now.
#BrooklynTheMovie's director #JohnCrowley and leading lady #SaoirseRonan at our #NYFF premiere! pic.twitter.com/pnjNUz5itg

— Fox Searchlight (@foxsearchlight) October 8, 2015