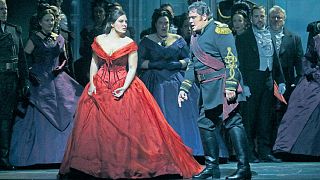 "Center stage: The Metropolitan Opera" was produced by the T Brand Studio international department and did not involve the International New York Times reporting or editorial departments. It was sponsored by Rolex. Text by BRADLEYBAMBARGER.
Looking to the future: How do opera houses, festivals and orchestras maintain tradition while moving their art forms forward, build and educate new audiences, and take advantage of technical innovations in communications and stagecraft?
Leaders' vision
Bringing high art to a wider public

Peter Gelb, general manager of the Metropolitan Opera
CREDIT: DARIOACOSTA / METROPOLITANOPERA
Although his 10th season as general manager of the Metropolitan Opera is under way, Peter Gelb doesn't seem to be thinking much about milestones. Even an institution the size and stature of the Met faces keen challenges in today's cultural marketplace, as he notes: ''Opera at this level is an extraordinarily expensive undertaking — it's not designed for 21st-century pocketbooks. So we can never rest on our laurels. We can't coast. It's a never-ending challenge to keep the theatrical life of the company forward-minded and to break down barriers between the high art of opera and a wider public.''
A signal achievement of Gelb's tenure in the latter regard has been the innovative, influential series ''The Met: Live in HD,'' which has simulcast operas in high definition to cinemas worldwide over the past decade and won Emmy and Peabody awards along the way. More than 17 million tickets have been sold for showings of Met operas in high definition and surround sound, extending the company's reach far beyond the house itself. Gelb is also proud to point out that the Met has been vigilant about spreading the word via social media, with its 340,000-plus Facebook ''likes.''
The stage of the Met Opera — like New York City, as the songs says — never sleeps. Dress rehearsals during the day give way to a performance in the evening; then a night crew takes over to ready the stage for the rehearsal of another opera the next day. The 2015-16 season will see the Met present 227 performances of 25 operas, including six new productions—from Verdi's ''Otello,'' Berg's ''Lulu'' and Bizet's ''Les Pêcheurs de Perles'' (in its first Met staging in nearly a century) to Puccini's ''Manon Lescaut'' (starring the tenor favorite Jonas Kaufmann), Donizetti's ''Roberto Devereux'' (in its company premiere) and Richard Strauss's ''Elektra.'' Among these, there are Italian favorites but also edgier 20th-century classics ''Lulu'' and ''Elektra.''
''The Met has to present the Verdi and Puccini greatest hits, in new productions and revivals,'' Gelb says, ''but we also have to explore other masterpieces. The new production of 'Lulu' is by William Kentridge, whose designs for Shostakovich's 'The Nose' were so extraordinary. He has such a following in the visual-arts world that he brings in new audiences. That's not to mention that we have Marlis Petersen in the opera—she's today's definitive Lulu.''
The Met has fostered some of the biggest names in opera over the past decade, among them the superstar soprano Anna Netrebko (who will make her New York recital debut on the Met stage in February).
''I've made it my business to identify great new talents and get them signed, sealed and delivered to the Met early in their careers,'' Gelb says. ''There's Anna, of course, and now we have another exciting young soprano in Sonya Yoncheva. I should also point out that in 2015-16, Sondra Radvanovsky will be the first singer in Met history to star in Donizetti's 'Tudor Queens' trilogy in a single season. And we have Plácido Domingo—ahistorical miracle of longevity — returning in 'Simon Boccanegra.' There's nothing like a charismatic star, new or a veteran, to galvanize an audience.''
A key evolutionary change in the Met process is that ''we are ready to move more quickly now and take risks on talented artists, not only singers but also directors from beyond the opera world and young composers, too,'' Gelb says. ''We presented Nico Muhly's first opera, 'Two Boys,' in 2013, and we've already commissioned another opera from him, 'Marnie.'''
Looking ahead, there is an expansion of the Met's lobby on the drawing board, as well as proposals for a troupe to present small-scale performances of operas in communities around New York City.
Gelb is also committed to linking the Met to its fellow New York cultural institutions, from the Juilliard School and the Film Society of Lincoln Center to the New York Public Library and the Guggenheim.
''I want to make sure that the Met is always interacting in the broader cultural life of New York,'' Gelb says. ''For instance, we timed 'The Nose' with a Kentridge show at the Museum of Modern Art, and we held an 'Otello' event at the Guggenheim. We want to underline the connections opera has to other art forms.
''Over the next decade, I'd also like to see the Met Opera become a prime mover in arts education in America,'' Gelb adds. ''I don't want to be just in movie houses but in community centers and schools. Arts education is challenged all over the world. I'd like to see the Met help buck the trend in the school systems where business and technology take a huge precedence over culture. It's important to me that we connect on that level — it's where we cultivate the future audience for opera.''
The art of the musician
A new star shines at the Met

Sonya Yoncheva as Desdemona and Aleksandrs Antonenko in the title role in Verdi's ''Otello'' at the Metropolitan Opera
CREDIT: KENHOWARD / METROPOLITANOPERA
Opera lore brims with tales of surprise sensations, with one singer winning stardom after taking another's place onstage at virtually the last minute. Sonya Yoncheva's initiation into this tradition was even more of a storybook affair, as the Bulgaria-born soprano gave her first staged performance as Mimì in Puccini's ''La Bohème'' with two weeks' notice at the Metropolitan Opera in November 2014 — just a month after she gave birth to her son, Mateo.
Peter Gelb, the Met's general manager, gave a rare curtain speech before Yoncheva's initial ''La Bohème'' performance, saying that the company was ''very fortunate that she had decided to spend her maternity leave singing on the stage of the Met.'' Despite the hasty preparation and the stresses of new motherhood, Yoncheva earned plaudits all around. Zachary Woolfe's review in The New York Times described her singing as ''subtle, thoughtful and heart-rending … like the work of a veteran artist,'' with her ''delicate, dreamy, detailed'' portrayal of Mimì arriving ''more or less fully formed.'' The review summed up Yoncheva as ''the real deal.''
Yoncheva also enjoyed a high-profile return to the Met in September to help open the 2015-16 season in Verdi's Shakespearean opera ''Otello,'' making her role debut as Desdemona. Her run in the cast culminates in ''The Met: Live in HD'' worldwide broadcast on Oct. 17.
As Yoncheva's son now approaches his first birthday, his mother's life has been hectic as the singer balances family with rising stardom. ''Actually, I don't feel like I'm balancing anything!'' she protests breathlessly but brightly, just after an ''Otello'' rehearsal. ''I'm 100 percent a mother when I'm with my son, and I give 100 percent onstage. Last night, he didn't sleep hardly at all, so I arrived for rehearsal completely exhausted. But the collaborative energy at the Met is so wonderfully intense — it really focuses you.
''That is, to me, what makes the Met unique: Every production has this special energy,'' she adds. ''Even a revival of something done many times, like 'Bohème,' is never old. Each time, the production is renewed. When I consider how opera can remain vital to future generations, this is what feels necessary — to do whatever we can to make this old art form seem forever young. Opera is an emotional art, and these emotions must feel fresh and real to people, honest and true.''
In playing the part of the innocent-yet-doomed Desdemona — who remains fully devoted to her husband, Otello, through his jealous, and eventually murderous, rages—asinger has to take care to preserve her vocal and dramatic energy near to the opera's climactic end, when her showcase arias finally come, with the ''Willow Song'' and ''Ave Maria.'' About the intensity of the emotions depicted via Desdemona, Yoncheva says: ''She's trying desperately to understand the weaknesses of this man she feels so passionate about. She's completely in love with her husband, even as jealousy consumes him. This resonates with me, at least in a way. I would be ready to die for the loves of my life, for my family. I understand devotion.''
Yoncheva won first prize in the 2010 Operalia competition, underscoring lessons learned well under the tutelage of the early-music maestro William Christie in his academy Le Jardin des Voix. She was also featured in filmed European productions of Monteverdi and Pergolesi with the conductor Emmanuelle Haïm. Then came her turns in ''Rigoletto'' and ''La Traviata'' at the Met, as well as the celebrated ''Bohème.'' Sony Classical earlier this year released her debut recital album, a collection of French arias titled ''Paris, Mon Amour.''
A key part of her future is bound to be in New York City, including a reprise as Mimì next season. ''A singer like Sonya has huge artistic promise,'' says Gelb. ''We want to look ahead with her, so the Met can be a place where she can grow and develop, vocally and theatrically. Sonya has the potential to be one of our stars.''
With such plans afoot, Yoncheva can use the ease and quiet of Switzerland in her down time. She lives there with her son and her Venezuelan husband, the conductor Domingo Hindoyan, a valuable partner when it comes to researching performance history and debating interpretive points. To totally disconnect, the soprano likes to paint abstract canvases as a meditative creative outlet. Lately, she has been busier making up lullabies for Mateo, but then family always comes first in her book.
''Motherhood has givenmeperspective when it comes to my singing,'' Yoncheva says. ''I am very dedicated to my art, but I know deep down that my life as an opera singer is an amazing accessory to my family life.''
Rendezvous: 'Otello'
A hero's world turned inside out

The director Bartlett Sher in rehearsal for Rossini's ''Le Comte Ory'' with Juan Diego Flórez as the count and Diana Damrau as Adèle
CREDIT: MARTYSOHL / METROPOLITANOPERA
The emotions explored in Verdi's opera ''Otello'' are all too human. Issues of power and control devolve into envy, jealousy, insecurity, confusion, rage and—worse. The title character is a Moorish outsider in Venetian society who never feels as if he truly belongs, despite his successes as a military leader. His uncertain world turns inside out: He sees devotion as deceit, and vice versa. He listens to the scheming Iago and distrusts his wife, the innocent Desdemona, to a tragic end.
Bartlett Sher's production of Verdi's 1887 Shakespearean opera kicked off the Metropolitan Opera's 2015-16 season in September, with an initial run through Oct. 17, when it can be seen in the ''Live in HD'' cinema simulcast series. (Performances resume in the spring.) Sher—aTony Award winner who is resident director at Lincoln Center Theater—has worked with the set designer Es Devlin to stage ''Otello'' in a way that reflects the title character's emotional turmoil.
''Shifting Perspex walls represent the world of illusion in which Otello lives—where it's difficult to know what's true and what's not,'' Sher explains. ''What can you trust — your accomplishments? Who can you trust — those closest to you? Your wife? Insecurity and envy are powerful, upsetting feelings that can really get to you, and they strike close to home for a lot of us. Verdi knew these emotions from the very political world of Italian opera, and I recognize some of them from the theater world. Even if we don't succumb to the level of Otello, these feelings resonate.''
Sher's previous Met productions have included Donizetti's ''L'Elisir d'Amore'' and Rossini's ''Barber of Seville,'' which will both be revived this season. The more dynamic scale of ''Otello'' ranges from the epic to the intimate, from crowds and a chorus of 100 to a couple's bedroom at night.
One of the more novel aspects of this production is that it will be the first at the Met since 1891 to be performed without the actor portraying Otello in blackface. Major theater companies stopped using dark makeup on white actors playing the role when presenting Shakespeare's play long ago. Opera has generally kept to the convention, though the English National Opera dispensed with it last season.
''With our cultural history in America and the painful echoes of racist minstrelsy,'' says Sher, ''blackface doesn't feel right, particularly not in the volatile times we're living in. It was never in the cards for me to do it that way. Our ideas about race are evolving all the time, hopefully. Anyway, Shakespeare made more of race in the play. Verdi and his librettist, Boito, did away with some aspects of otherness to concentrate on how we perceive outsiders —and how it feels to be an outsider.''
The Otello in this Met production is the Latvian tenor Aleksandrs Antonenko, ''who was handpicked by Riccardo Muti to sing the role, trained by him note by note,'' Sher explains. ''After eight years singing the part, he knows the role better than almost anyone. He also has one of the most powerful voices I've ever heard and can stay high in his range all night long — it's extraordinary. It's like working with a great athlete who's meeting this incredible physical challenge.''
There are tensions when staging opera, especially a work as demanding vocally as ''Otello,'' Sher notes. ''You have to stage the action realistically and with clarity, while still helping the singers meet that challenge of the music, making sure the action doesn't come at the wrong time. And the trick of a Met design has to do with sound. You have to create something beautiful that fills the space, but it also has to be right for making acoustic music in a 3,800-seat hall, no microphones. The sound has to reach out into the theater so that the audience feels it, but the sound also has to bounce back so that the singers can hear themselves and each other.''
As for the music, Sher points out that Verdi composed ''Otello'' when he was an old master, roused out of retirement in his 70s for the work. ''Verdi — along with Wagner—elevated opera to a great dramatic art form,'' says Sher. ''There's not a wrong move in 'Otello.' Verdi could write a big chorus like nobody's business, but my favorite parts of this opera are the heartbreakingly intimate ones. This opera underscores the fact that trust is what holds the world together—without it, we all come apart.''
Next generation
New audience-development initiatives
The Metropolitan Opera has a famously devoted and vocal audience, the seats of the house filled with those who root for their favorites as if they were at a Yankees game. But the Met is always imagining ways of developing future generations of opera fans.
Some of the Met Opera's pioneering initiatives in this area have been wildly successful, such as its ''Live in HD'' series. Marking its 10th year, the broadcast series has broadened the Met's reach to some 2,000 cinemas in 70 countries around the world. This season, the Met is rolling out two new audience-development programs for the house itself: ''Fridays Under Forty'' and ''Holidays at Half Price,'' which will— along with the longstanding offers of discounted rush and student tickets— broaden access to the more than 900,000 Met tickets available throughout the season.
The majority of Met Opera ticket prices remain unchanged in 2015-16, with an average increase of 1 percent overall for an average ticket price of $160. With ''Fridays Under Forty''— designed for young professionals who may be experiencing the Met for the first time—operagoers aged 40 and under can purchase $60 or $100 Orchestra or Grand Tier tickets for a special series of 8 p.m. Friday performances. These will include opportunities to socialize and learn more about the Met before the curtain and at intermissions.
The Met is also expanding its special offers during the peak tourism season, including ''Holidays at Half Price.'' For all performances from Thanksgiving through Dec. 30, tickets for an operagoer 18 and younger will be half price for any section (when purchased with a corresponding full-priced ticket). In addition, there will be a ''Family Day'' open house on Dec. 30, when the Met will be open early to provide children with behind-the-scenes access to the matinee performance of the special English-language, abridged version of Rossini's ''Barber of Seville.''
The Met's general manager, Peter Gelb, says: ''I'm always betting that once we get people in here, at any age, that they will be hooked on the theatrical excitement and sheer quality at the Met.''
Behind the scenes
'Expressivity is the key' for the chorus

Donald Palumbo working with the Met Opera chorus
CREDIT: MARTYSOHL / METROPOLITANOPERA
One might not think of the role of chorus master as a dangerous one, but Donald Palumbo has broken multiple bones in his duties as director of the Metropolitan Opera chorus since 2007. It's a measure of his dedication that those injuries barely slowed him down. Even after breaking a hip in a fall backstage during a worldwide broadcast of Shostakovich's ''The Nose,'' Palumbo was back on the job the next day.
Devotion, though, isn't enough to have remade the Met chorus in recent years. Palumbo's rare talents as a shaper of choral singing have been described both within and beyond the Met as approaching wizardly. The Houston Grand Opera's chorus master, Richard Bado, has called Palumbo ''the top, the best.'' His work has enhanced the chorus in precision, subtlety and power, and it has been widely acknowledged as now raised to the level of the acclaimed Met orchestra. James Levine, conductor and music director of the Met, has described the quality of the chorus as ''thrilling.''
To Palumbo, the challenge of an opera chorus versus that of an oratorio or church choir is that the opera group ''has to be part of the fabric of what's happening onstage, with a sense of responding vividly to the dramatic moment.'' In rehearsal, where Palumbo truly is a master, he and the singers work toward a colorful, rich yet versatile tone quality, whether for the elegant French sound in Bizet's ''Carmen'' or the dark amplitude needed in Wagner. ''We have to have a big, full sound to fill this 3,800-seat hall, but volume isn't enough. Expressivity is the key.''
Of course, the challenge of utmost expressivity can be one of diction, and the chorus often sings in a different language from opera to opera: not only Italian, French, German and English, but also Russian, Czech and even Sanskrit in the case of Philip Glass's ''Satyagraha.'' The singers switch from one language to the next even in the course of a single rehearsal day, as Palumbo tweaks the height of vowels and cutoff for consonants to just the right point.
Then Palumbo has to manage the move from rehearsal room to stage. It's one thing to achieve a blended, rhythmically on-point choral sound with everyone alongside each other; it's another when the singers are spread onstage in costume, with the conductor distant or obscured. One trick is to have the singers seated in mixed fashion in the rehearsal room rather than in sections, with sopranos, basses, tenors, etc., all next to one another. As Palumbo points out, this enables the singers ''to get used to hearing all the parts harmonically, to get a better feel for ensemble tuning.''
The chorus at the Met is one of the world's largest: 80 full-time members, which is what's required for a production of ''Carmen'' or Verdi's ''La Traviata.'' Speaking to Palumbo, one gets the feeling that he is always impressed with the quality of these singers, however thoroughly he drills them.
''The level of singers applying to the Met chorus in recent years has gotten incredibly high,'' says Palumbo. ''The quality of the group then becomes its own draw. I love my job. And I have to say, the fact that the singers of the Met chorus are so exceptional makes that job much easier.''