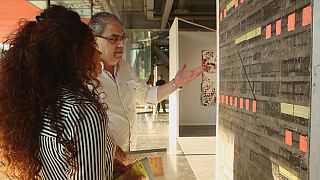 Art is also business – the fifth edition of Docks Art Fair in Lyon brought together 20 French and international galleries to show a diverse range of emerging artists.
What is important for us is that the art we show clicks with the audience, that the people understand the artwork.
The four-day event coincided with the opening week of the Lyon Biennale of Contemporary Art and will continue as an exhibition. As there are already many art markets in Europe, it was a challenge for the fair's founder to establish an additional art market in the southeast of France.
"We have educated the public because we made the approach to art easier – here it's not intimidating, it's a jovial environment. The people can easily approach the gallery owners and artists; here they dare to ask for the prices. In a gallery it is very complicated, people often feel too inhibited to enter a gallery, where the approach to buy art is more complex," says Patricia Houg, director and co-founder, Docks Art Fair.
Adds co-founder, Olivier Houg, "We founded the Docks Art Fair because there was indeed a lack of an art market in Lyon and certainly in this area of France. By creating the fair we proved that there is a demand and it's possible to establish an art market with a modest, but interesting, level of quality. Of course we will not make millions and millions in turnover, but at every edition of this fair we get the confirmation that there is an existing market which is ever-growing, with more faithful customers."
Rio-based Sergio Gonçalves showcases young Brazilian artist Felipe Barbosa and his work with leather patches from footballs – prices for the big patchworks are around 13 to 14,000 euros. The art dealer, who is regularly at the established international art markets like Cologne and Basel, came to Lyon to expand his French market.
"I already have clients and collectors in Switzerland and some in Paris but none in the south of France. It's the first time that we are here and it's an opportunity for me to open new markets for Brazilian artists," says Gonçalves.
Juan Cárdenas was born in Germany and now runs the Kir Royal gallery with his wife in Valencia, Spain. He says he is not overly dependent on the economic situation in Spain because he sells a lot to international customers. At Lyon Docks Art he represents the work of Spanish artist Keke Vilabelda, who mixes painting, sculpture and photography. Vilabelda's presentations of urban buildings include cement as a basic element.
"What is important for us is that the art we show clicks with the audience, that the people understand the artwork. If the artistic approach is too academic the access is only reserved for a few people. What we would like to do, even if it sounds a bit utopian, is we would like to democratise art a little. When there is nobody who buys art, artists will not be able to eat and then there will be no art anymore," says Cárdenas.
Galerie Voss in Düsseldorf showcases work by Brazilian-born artist Harding Meyer who lives and works in Berlin and Karlsruhe. His large-scale oil portraits are offered for around 10 to 15,000 euros. Gallery owner Rüdiger Voss has been in the art business for over 20 years.
"What I notice is the change in the German art market. When you start with very young artists who might just have finished the academy of arts it starts off very fresh – it's not anymore like it used to be that the people react enthusiastically and buy art right away. Now the buyers hesitate more and wait and see what is the development potential of the artist. I think that's a pity," says Voss.
Gallery owner Laurent Godin presents the work of Marlène Mocquet who is considered to be a rising star – the 33-year-old French artist has already had solo exhibitions around the world in Paris, Hong Kong and New York. For the Paris-based Gallery owner, the choice to work with an artist is not only pure financial calculation, it's also pure passion.
"The interest we have in the work of artists, no matter whether they are young or not, is to be focused on today and the future. But what is the most important is to have the desire to show the artwork, that desire is the principal motivation overall," says Godin.
This year's fair introduces a new format that extends it to a three-week exhibition, during which a specially trained team of professionals will be on-hand to guide visitors through each of the solo presentations.
Wolfgang Spindler, euronews: The art market is rather slack, regardless of the fact that prices for artworks of established artists are soaring higher and higher. If you want to establish young artists on the market, you have to work hard. That is the common thread at this art fair.
Twitter hashtag @DocksArtFair