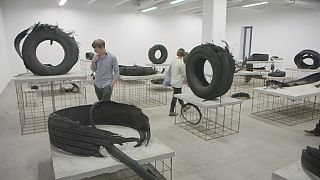 The Lyon contemporary art biennial, now a must-see event on the contemporary art scene, is open.
For this 13th edition under the theme "La vie moderne", 60 artists from 30 different countries are offering visitors their personal view of the world with all its contradictions.
Ralph Rugoff, director of London's Hayward Gallery, is the curator: "We know, obviously, that there is a big difference between information, which we are bombarded by all the of time, and meaning.
"A lot of information can be meaningless and art is really about creating possibilities for new meanings, and that is something that happens with the audience: it's a dance, it's a conversation. But artists, I think, one of the strengths of art in our culture is that it is a place where meanings can be generated," he tells euronews correspondent Wolfgang Spindler.
Rugoff has taken on the challenge laid out by the biennial's artistic director, Thierry Raspail, who instructed him to shape his curatorial vision around the heavily loaded concept of modernity.
"If you look 30 or 40 years back, you'll notice that the artist's main rival was other artists," says Raspail. "Today, it's social networks. Imagery, things that are posted online, Instagram, Facebook, etc. generate an immediate response, that forces artists to change, to work in a much more immediate fashion with easy-to-understand images."
French artist Michel Blazy likes to work with living material to show the evolution and freedom of projects and illustrate the passing of time. He gives the first impulse, then lets the matter take for the duration of the exhibition.
"I like the act of gardening," he explains. "I find it interesting to transfer this act into art because you cannot control matter 100 percent. I love the kind of situation where I'm here but you forget all about me."
With his work, entitled "Permanent Residency", meant to look like a homeless person's shelter, Greek artist Andreas Lolis says he is representing the future of European architecture.
"Here you see two kinds of marble," he explains. "The yellow one comes from Morocco, the white one comes from a Greek island. Everything is made by hand. It took me one and a half years to complete the project."
By using marble, normally considered a noble material, for his carefully crafted constructions that look like cardboard, Lolis turns conventional values upside down. His aim is to challenge conventional concepts of beauty and morality.
German artist Klaus Weber also wants to challenge our concept of reality. He works like a scientist, using natural, meteorological and biological elements, and combining them with various industrial materials he endows with extraordinary appearances.
"My work at the moment revolves a lot around questions of limits, resources, energy, people's psychological limits and resilience," he says.
Turkish artist Ahmet Öğüt works on complex social issues – immigration, demographic problems, the impact of economics on everyday life, the idea of workers reappropriating their factory. With his installation, Ögüt wants to shed light on two episodes of Lyon's history: the invention of the cinema by the Lumière brothers, and the textile industry.
"I want to combine these important issues, cinema and its social role and the role of the silk workers' handcraft," explains Öğüt. "Industrial evolution means we always leave things behind because they are out of date and create new things. But when we create new things, it's very important that we reconsider the traditions left behind through art and cinema."
The contemporary art biennial runs in Lyon until January at the new Musée des Confluences, the Contemporary Art Museum and the Sucrière.
Discover 60 artists from 28 countries at the 13th BiennaleLyon</a>. La vie moderne <a href="http://t.co/zoWyUhSXuQ">http://t.co/zoWyUhSXuQ</a> <a href="http://t.co/GEhXEdb82a">pic.twitter.com/GEhXEdb82a</a></p>&mdash; ArtRabbit (ArtRabbit) September 11, 2015