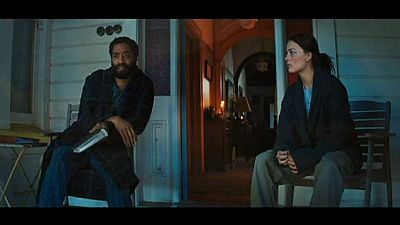 Set in a post-apocalyptic world somewhere in a southern US state, 'Z For Zachariah' stars 'The Wolf of Wall Street''s Margot Robbie as the last living woman on earth.
She lives in seclusion with her dog until she stumbles upon another survivor, played by Oscar-nominated actor Chiwetel Ejiofor. The relationship between Margot and Ejiofor's characters dramatically changes with the arrival of a third character, played by Chris Pine.
"I thought it was going to be really exciting because of that relationship, the sort of idea of Adam and Eve but for real," explains Ejiofor about shooting a movie with just three actors. "And how delicately you would have to navigate those kind of concepts, to not find yourself essentially in a bad relationship with the last person on the planet, which would be not good. And so John, you know he is a very smart guy, and what he tries to do is to kind of navigate, not only his own personal demons but try to navigate this relationship into somewhere that's kind of of a good place or something."
Director Craig Zobel carefully chose the shooting location.
"We were on the South Island in New Zealand and it was beautiful," says Ejiofor. "There are less and less opportunities to find places that can hold a film like this. Even if you find somewhere that's pretty remote you turn the camera 180 degrees and you've got a freeway. There is nowhere that kind of can really exist and you can just sort of look at the expanse of land and really believe there is nobody around for like, forever, you know."
While its star-studded cast has been praised for its performance, the film has earned mixed reviews with some calling it a postapocalytic gem of a thriller while others found it ambitious but ponderous.
'Z For Zachariah' is out now in some European countries and in selected US theatres.