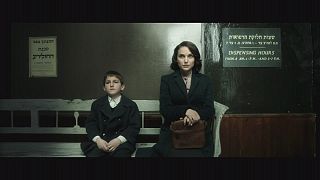 Natalie Portman is making her debut as a film director with 'A Tale of Love and Darkness'.
The movie, which premiered in Cannes earlier this year, is based on the autobiographical novel by Israeli author Amos Oz, in which he chronicles his childhood in Jerusalem at the end of the British Mandate for Palestine and the early years of the State of Israel.
Portman, who was born in Israel and arrived in the US at the age of three, says the movie mirrors the story of her own family. Some of her relatives died in the Holocaust. She says the concept of utopia is central to the film.
"Utopia for a land of orphans who came out of the Holocaust and maybe was blind to some of the realities on the ground," she said at the film's Jerusalem premiere. "I believe in this country and I believe in the people, that it can be the best version of itself. And I think the end of this film deals with this gap, this chasm between dreams and reality. "
Portman also wrote the film's screenplay and stars as Oz's troubled mother, whose dreams can't withstand the grinding everyday reality of Israel's early days.
It was her decision to shoot the film in Hebrew: "It was very meaningful to me to get to speak Hebrew better because I've always been kind of embarrassed and shy and it's weird when your first language, and maybe the language of the emotions of your childhood, is sort of missing for you, you know, you go all these years without a command of it. So it is very exciting to be able to sharpen it as an adult."
Portman's directorial debut has earned mixed reviews with one critic calling it a serious, well-made adaptation of Oz's memoir while another describes it as a well-meaning but dreary adaptation of (Oz's) autobiography.
'A Tale of Love and Darkness' is now out in Israel.