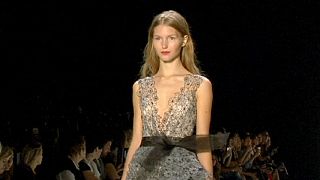 Lady Gaga's stylist, Brandon Maxwell, has made his New York Fashion Week debut under the watchful eye of his muse.
"I can't even put it into words. I can't wait for you to see the clothes, they are sensational," said an enthusiastic Gaga.
It's the first time Brandon Maxwell has shown a full line to the public. It was a true collaborative effort with Gaga helping him with everything from editing, lighting the runway and rehearsals.
Thirty-one looks hit the catwalk, which Maxwell said were inspired by his mother's American classic style. His collection had a strong Seventies feel, featuring high slits and red carpet-ready gowns. Several looks had what Maxwell calls a wave detail which gives the clothes a structured feel.
A long time admirer of their work, British actress Helen Mirren attended the show by Hollywood darlings Mark Badgley and James Mischka, who have been hailed by Vogue as one of the Top 10 American Designers.
Wearing a white tweed suit from the label, Mirren said she's a big fan: "I have had a very long connection. Badgley Mischka, when I first started having to go on red carpets, they were one of the companies that I have very very first started working with."
Partners in business and in life, the pair have been working together since 1988. James Mischka explained where this season's inspiration came from: "We got inspired by an imaginary trip to Buenos Aires in 1950. Obviously we weren't there then, so we had to imagine it, which makes it more fabulous because there is no reality to weigh you down, it's all imagination. So we thought about the femininity of the Paris of South America, the combination of the European sensibility and the Latin sensibility."
The duo dressed their Argentine muse in feather light gowns with thigh high splits and deep cut necklines, often embellished with gold brocades and metallic sequins.
Big chunky jewelry formed a stark contrast against the lightweight garments. The looks were completed with jewel encrusted strappy heels – an array of luxurious gowns certain to make their way to a red carpet in the coming awards season.