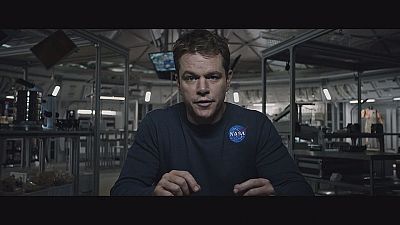 In 'The Martian', Damon plays an astronaut on a manned mission to Mars, who, after a fierce storm, is presumed dead and left behind by the rest of the crew.
It would take a rescue team from Earth four years to come and save him. So the astronaut, who happens to be a botanist, has to find ways to survive.
Hitting the red carpet at the film's Toronto Film Festival premiere were Andy Weir, who wrote the novel on which the movie is based, the film's director, science fiction legend Ridley Scott, and co-stars Jessica Chastain and Matt Damon. Talking about the movie, Damon said: "It's about collaboration, and cooperation and really smart people doing really smart things."
The film opened to mostly positive reviews in Toronto, with some critics hopeful it might even rekindle interest in the space program and inspire a new generation of astronauts.
Also premiering at the Toronto Film Festival was the Australian comedy drama 'The Dressmaker', starring Liam Hemsworth and Kate Winslet.
Based on a popular Australian novel, it is Australian director Jocelyn Moorhouse's first movie in nearly twenty years.
It tells the story of 1950's fashionista Tilly Dunnage who returns to her tiny Australian hometown, which she left as a young girl after being suspected of murdering a boy. Tilly transforms the locals with her couture creations and, in the process, exacts revenge on the people who wrongly accused her of murder all those years ago.
Described as a silly but fun movie, whose tailoring is more consistent than the storytelling, 'The Dressmaker', starring Kate Winslet, Liam Hemsworth and Judy Davis, is on global release from mid-October.