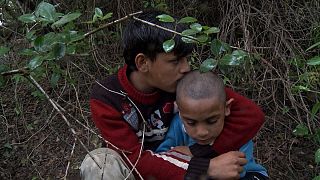 Pennies follows the story of eight-year-old Yichia and his older brother Hamam, two Palestinians who are forced to become street beggars, secretly crossing the border into Israel to make money to support their family.
The documentary premiered at this year's Jerusalem Film Festival. It was a subject close to the director's heart as he has spent the last 15 years with children and teenagers working on informal educational projects.
"Making this movie was also a social commitment for me. The film doesn't discuss politics, but the main issue for the family is the security fence that doesn't allow the family's father to work in Israel, and has forced them into poverty. Who is responsible for the situation of those kids? They are the victims and forced to beg in the streets instead of going to school. Who or what could solve their problem?"
Badran noticed the boys each day as he drove to work. He has been filming the two young brothers for almost eight years but the filming conditions weren't simple.
"The first challenge when filming was the handlers, the bosses who control the kids begging in the streets. Whenever somebody showed up with a camera, they got beaten up. It took me over two years to win their trust. Also, it wasn't easy to film the people in the cars, not everybody wanted to be filmed. Then getting the children used to the camera so they acted naturally was another challenge, but in the end the camera became a part of their life."
After the festival, the director hopes to raise more funds to make a feature-length film.
pennies. badran badran from Badran Badran on Vimeo.
7'30 off line presentation