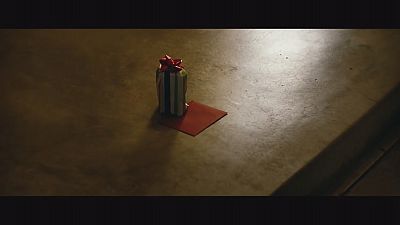 A dark tale of high-school revenge played out years later, The Gift takes its lead from slow-burning 90s stalker thrillers.
It also marks Australian actor Joel Edgerton's directorial debut, who got some less disturbing gifts from his Hollywood connections.
"When I was in front of the camera my brother who is a filmmaker was there as an outside eye. But you know guys like, I got a lovely gift from Ridley Scott who I had just worked with a year and a half ago. I got a little note from Ridley just saying 'Don't take shit from anybody.'"
Jason Bateman and Rebecca Hall play Simon and Robyn who have recently moved to LA and run into an old-high school classmate of Simon, who becomes fixated on the couple.
The obsession hides a past of abuse at the hands of Simon. The movie examines the idea of forgiving and forgetting, although it's a concept that is not so clear cut in the film. Actress Rebecca Hall explains:
"It's less about would you be willing to forgive someone and it's more about it's easier to forgive someone if they take responsibility for it. If they were a bully then and are still a bully now but it's just become more honed, more subtle, more conniving, more surreptitious in a way."
The Gift opens in cinemas in the UK on August 7th.