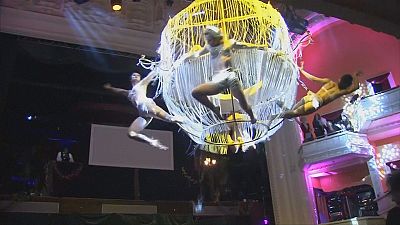 The boundaries between audience and stage are being eroded on Broadway where guests are enticed to be a part of the performance in what's known as immersive theatre.
One of the newest shows, 'Speakeasy Dollhouse: Ziegfeld's Midnight Frolic', transports guests back in time to the Prohibition era and the Ritz hotel, where showgirl and actress Olive Thomas died.
"The thing about this type of show is that it's not necessarily a play. What it is is a party that happens to have a storyline wrapped around it. So it's kind of a 'Chose your own adventure of plays', a little bit, because you can follow whatever character you want," says actor Joey Calveri.
Guests are encouraged to roam, be inquisitive and talk to strangers.
A few blocks away, producer Randy Weiner has transformed the former 1940's Diamond Horseshoe nightclub for his interactive show, 'Queen of the Night' based on Mozart's opera 'The Magic Flute'.
"It's a 360 degree performance. So you are, as an audience member, inside," says Katherine Crockett, who plays the queen.
Aerialists descend on a giant chandelier and take a guest back up with them, a showgirl leads an audience member back in time and an actor gives a guest a marker for a mysterious experience yet to come.
"I think people love connecting with other people and they love connecting directly with experiences," says Randy Weiner. "You can look at a stage it's such a beautiful set and it looks like such a beautiful scene and you wish you were there, and with an immersive theatre project, you can actually step into that world, step into that scene."
Producers believe there is an appetite for experiences that challenge audiences physically and emotionally. Most of the guests who come are looking for new experiences.
"It was wild, it was fun, it was different," said one delighted audience member. "We wanted something outside of the box so I think we definitely got what we wanted," added his companion.
"You get whipped and kissed," said another
"Touched and messed with," added another. "It's the best part, absolutely."
Weiner is also producer of the British theatre company Punchdrunk's 'Sleep No More'. The show, which has been running in New York since 2011, has raised the bar for immersive theatre with its blend of Shakespeare's 'Macbeth' and film noir.
For a more sensory experience, guests can head for the Daryl Roth Theatre for the non-verbal show 'Fuerza Bruta', which combines music, aerial stunts and actors sloshing around in a pool suspended right above the audience.