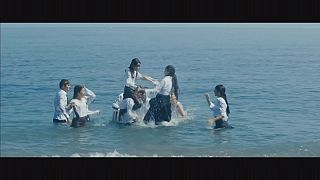 'Mustang' is a film by Turkish director Deniz Gamze Ergüven and is presented as part of the Directors Fortnight, a parallel selection, at the Cannes Film Festival.
The film is set in a remote Turkish village and follows the flowering sexuality of five orphaned sisters and the outraged reaction of the conservative villagers and extended family members.
Deniz Gamze Ergüven, the director explained her motivation to make the film: "I really wanted to uncover what it is like to be a girl, a woman in Turkey today, it is a burning and contentious issue in Turkish society, where the female voice is rarely heard. "
After the sisters are seen enjoying an innocent beach frolic with some local boys the regime at home becomes ever more strict and austere:
"I wanted to make these girls into heroines, characters of courage, intelligence and perseverance, values that rarely given to women in the movies. I see them like I see James Dean, rebellious but beautiful with all the vigor and freshness of youth. It could be considered a critical point of view, but I hope it generates something positive," she added.
The film is released in Turkey in the autumn and its presence at Cannes will ensure a wide a distribution.