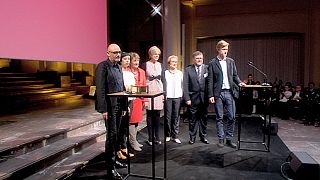 In Brussels, Greece and Ukraine picked up prestigious a European cultural award on Tuesday named after Princess Margriet of the Netherlands.
It's a recognition that there are real struggles that are happening in Greece and Ukraine. These are struggles that are not just isolated to those two countries. They are very symbolic, very representative of what Europe is going through - not only economic crisis but also an identity crisis."
Her Royal Highness and the eighth in line to the throne was on hand to present the prizes at a ceremony for the European Cultural Foundation, which included 25,000 euros in prize money.
Princess Margriet Award for Culture in BOZAR in Brussel #ECFpmapic.twitter.com/mpe09o2W7E

— Albert Nieboer (@Royaleurope) March 31, 2015
The awards/a> were set up in 2008 and honour artists who show the cultural potential of an inclusive Europe.
The 2013 Athens Biennale was first to be recognised, for recreating an ancient Greek Agora (or meeting place) at the former Athens Stock Exchange focusing on the country's economic crisis.
Adam Szymczyk, artistic director of Documenta 14, reflects on the work of Athens Biennale #ECFpmapic.twitter.com/3vWB95vXID

—

ECF

(@ECF_tweets) March 31, 2015
Spokesman Poka-Yio told euronews that the challenge for events like the Athens Biennale was to uncover new ideas.
"In order to survive we have to constantly re-invent ourselves. So we change the Biennale format from edition to edition and this is how we stay relevant and also sustainable," he said.
Ukraine's Visual Cultural Research Center has long courted controversy with its art projects. For its winning entry and chose to compare the country's 2013/4 Maidan protests with other social movements around the world.
Visual Culture Research Center in Kiev receives #ECFpmahttp://t.co/3AMn3WZZLqECF_tweets</a> <a href="https://twitter.com/ECF_Labs">ECF_Labspolitkrytyka</a> <a href="http://t.co/u7HpiYMMBS">pic.twitter.com/u7HpiYMMBS</a></p>&mdash; Krytyka Polityczna (krytyka) March 31, 2015
"The award we received today proves that by intuition we found a resonance between our work in Ukraine and what is going on elsewhere in Europe," Olexiy Radynsky from the VCRC told euronews.
Both entries were highlighted for creating space for interaction with culture at critical periods in both countries' histories.
One awards jury member, Saskia van Stein from The Netherlands, described the winning entries as an "epiphany, helping to define what a new democracy could be".
Rana Zincir Celal, a jury member from Turkey said: "It's also a recognition that there are real struggles that are happening in Greece and Ukraine. These are struggles that are not just isolated to those two countries. They are very symbolic, very representative of what Europe is going through – not only economic crisis but also an identity crisis."