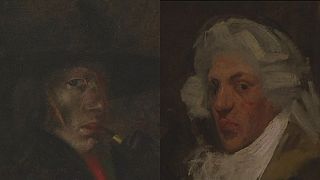 Works by two of the 20th century's greatest artists are currently on show side by side in a unique exhibition in Barcelona that explores the connection between them.
Born more than two decades apart, in the late 19th and early 20th century Pablo Picasso and Salvador Dalí shared a friendship based in mutual admiration, collaboration and artistic rivalry.
Both were heavily influenced by their native Spain but each chose a different artistic approach.
"Picasso and Georges Braque are the two main figures of Cubism. Later on, Picasso never become a member of the Surrealist movement, but surrealist artists all looked up to him. Dalí is a fundamental figure of the Surrealist movement. One could describe his cubist work at the start of the 1920's as a dialogue with Picasso," says Bernardo Laniado-Romero, director of the Barcelona Picasso Museum.
Featuring works by the two artists mostly hung in pairs, the exhibition displays some 80 paintings, sculptures, drawings and prints, as well as letters sent by Dalí to Picasso.
'Picasso/Dalí, Dalí/Picasso' runs at the Picasso Museum in Barcelona until the end of June.