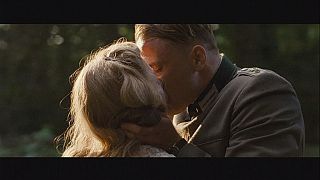 Based on Irène Némirovsky's novel of the same name, 'Suite Francaise' centres on a romance between a French villager and a German soldier during the early years of the German occupation.
Belgian actor Matthias Schoenaerts plays the role of Commander Bruno von Falk.
"I discovered the book after I read the screenplay and it's the book that really convinced me to do it. It's through the eyes of the writer that I found the keys to abandon myself on this journey," says Schoenaerts, who shot to fame starring alongside Marion Cotillard in the 2012 movie 'Rust and Bone'.
"Some moments in the film, like the execution and stuff… it was pretty tough to play that stuff. I don't want to mystify or make myself sound interesting or something, but it's pretty awkward to do such a thing knowing that this really happened. It adds a very specific dimension to what we're doing in that very moment. You're like 'OK, this really happened'," he adds.
Irène Némirovsky, the author of the novel the film is based on, died in Auschwitz in 1942. The manuscript was discovered by her daughter 50 years later and published to critical and public acclaim in 2004.
Director Saul Dibb admits he felt pressure when adapting the much-loved novel: "I think there's a pressure not just because it's successful. It's like… Irene had been killed in terrible circumstances and she would have no say over the adaptation of the book. So there's a responsibility to want to do an adaptation that is true to what she was trying to portray, I think, and also to what she was describing and the spirit of it."
Kristin Scott Thomas plays the domineering mother-in-law of Michelle Williams' Lucille.
And it could well be her last role in film for a while after the iconic actress said earlier this year that she was bored with acting and turning to theatre: "It's a long time to be working. I mean I've been working since I was 24, which is – and I'm not ashamed to say it – 30 years, and so you do get times when you think, 'Oh, I can't be bothered anymore. It's all too much,' and after a while sometimes you do get fed up with pretending you're someone else. I just want to be me for a bit," said Scott Thomas, who is preparing to appear in London's West End in a new production of Peter Morgan's 'The Audience', where she will play Queen Elizabeth II – a role previously occupied by Helen Mirren.
Opening to mixed reviews ranging from rewardingly complex and disarmingly compassionate to ponderous, 'Suite Francaise' is on global release from now.