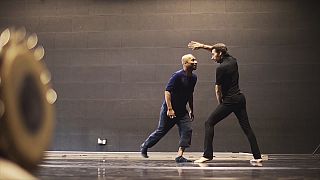 'Torobaka' is an innovative show currently touring Europe featuring a unique combination of flamenco and the Indian classical dance form Kathak.
A joint project between celebrated British dancer Akram Khan and award-winning Spanish flamenco dancer Israel Galván, Torobaka is currently on at the Onassis Cultural Centre in Athens.
"It's an open play. It doesn't have any script, it's like a concert. Personally, I see it like a dialogue. In the end it's like two dancers whose best conversation is through dance," Israel Galván told euronews.
A combination of the words 'toro', the bull, and 'vaca', the cow, the sacred animals in the two dancers' traditions, 'Torobaka' is a true celebration of dialogue between cultures.
Rather than mimicking one another, the pair seek to create something new by better understanding each other's approach to their craft.
"Flamenco and Kathak have connections to each other. You have all the recitation, the kind of vocalisation, the rhythmical element, the stamping of the feet. Their weapon (for flamenco dancers) is shoes, our weapon (for kathak dancers) are the bells around our ankles. And I think the common ground of meeting, really, is the music," said Akram Khan.
"With this piece, what we wanted to do, was to kind of celebrate in a sense, the connection between two traditions, but also to revisit the traditions, imagining what the tradition would be like in the past," he added.
When the project started, Akram Kahn brought with him the peace and inner calm of Indian culture and dance. Israel Galvan was more aggressive and powerful. During rehearsals, the two changed sides and managed to find a balance, combining the rhythms of kathak and flamenco.
"I had a very violent dance style and now I have a different kind of energy flowing through my body," said says Galván. "It's more 'flowery'," he added with a smile.
"He is my master," said Khan, refering to Galván. "He is my master," replied the Spanish dancer with a laugh.
After Athens, next stops for the show include Oslo, Stockholm, Cologne and London.