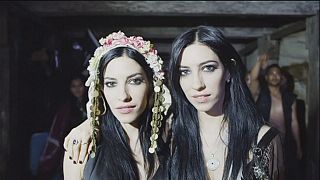 After eight years away Australian duo The Venonicas are back breaking their long silence with a self-titled album that looks like a fresh start for identical twin sisters Jessica and Lisa Origliasso.
"You Ruin Me," was the first single off the album, hitting number eight in the UK charts at the end of last year.
They have high hopes of similar success for follow up track, "If You Love Someone" even if it is very different to the previous heart-wrenching hit.
"That was actually the very last song we wrote for the record and it sort of just happened out of nowhere. We were in a very good place. I think when you have to go in and write a song that feels a little more upbeat… it's actually harder to write a happy song, than it is about heartbreak in a lot of ways, so we genuinely need to be feeling it in order to go to that place. So yeah, that one was sort of a celebration of love," says Lisa Origliasso.
"You Ruin Me" went straight in at number one in Australia, holding the position for three consecutive weeks and achieving double platinum sales.
The Veronicas are better known in their native Australia. Now touring Britain their long break from music means they're playing much smaller venues than before. But their fans have stayed loyal, and there are new ones, too.
"We haven't toured the UK for five years and we look a long break, so it's exciting for us to rebuild. Even on our tour in Australia we saw so many fans that were there from the beginning, it's just that they've grown up now and it's really cool. They're all total babes and they really listen," says Jessica Origliasso.
The Veronicas self-titled album and latest single "If You Love Someone" are both available now. Their March tour dates are in Britain, and they head to the US in the summer.