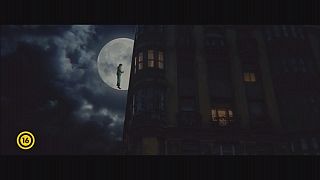 Fantasporto is back for its 35th edition. For a week containing 173 films from 28 countries the city of Porto was the world capital of all things horror and fantasy in the world of film, with audiences packing into the Rivoli and other cinemas in this port city in the north of Portugal.
This year's big winner came from Hungary, grabbing the festival's top prize.
"Liza, the Fox Fairy" by Károly Ujj Mészáros is a delicious comedy that had its world premiere in Porto. Liza is a young nurse looking for a man, but the problem is all her boyfriends-to-be somehow die and she remains single. She believes she is a fox fairy, a Japanese mythological creature.
"We had many special guests who came here for the films, we had 48 world or European premieres. Taking into account that Portugal is a small country in terms of cinema production, this is very good. We had great works, especially from Europe, eastern Europe more precisely, from countries like Georgia and Hungary and, of course, Portuguese cinema. We had all we need to continue holding a great festival, especially in connecting it to the film industry," says festival director Beatriz Pacheco Pereira.
Fantasporto chose to give a lifetime achievement award to British actress Catriona MacColl, best known on the continent for her hit horror work with Italy's Lucio Fulci in the 1980s.
She is now starring in "Horsehead", by French director Romain Basset, who won the Best Director award. The visually stunning movie is inspired by his own troubles with sleep paralysis. The director and the actress met at a film festival eight years ago and became close friends.
"He's a bit like my son. I don't have a son, so he's a bit like my son. I would try to encourage him, keep him up when he was down, when things weren't working out or whatever, and suddenly he came up with this fantastic idea," says MacColl.
"Even if Catriona and I couldn't have foreseen where we were going when we met, it was impossible, I secretly promised myself I would direct her one day in a movie," says Basset.
More of a psychological thriller, "Landmine goes click" is a Georgian film also getting a world premiere in Porto. It is about an American tourist who steps on a landmine by accident… or maybe not so accidentally. The film won its director Levan Bakhia the audience award, given by moviegoers themselves.
"This is my first time ever at the festival and I didn't have any expectations. I really appreciated it. The audience is very important, the audience's opinion is really important for me and the fact they liked it is very important for me. Super important," he says.
Finally, the Portuguese director and producer Fernando Vendrell was also honoured with a career award. Twice a prizewinner at the Berlin film festival, since 1998 he has directed three feature films, as well as shorts and TV series.
"This is a career award, but my career still has many years to go… This award makes me think of the future… both my future as a filmmaker and producer and the future of Portuguese cinema," said Vendrell.
Fantasporto will be back next year with more tributes and, of course, many new films. This year, the only problem was choosing from too many movies! So, for the 2016 edition, the directors have decided to have less films in competition. They will be slimmed down to 14 in the fantastic film section and 10 in the director's week.