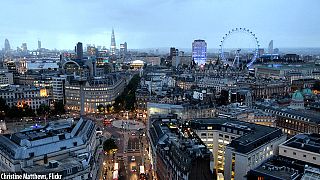 Multiculturalism is already a shared responsibility. If you are resident or just a visitor to London or Berlin, when you enter a bus, you will probably hear at least four different languages and see at least five different shades of skin colour. If you are western European you will probably be bored of anti-immigration pledges. If you are an eastern European you might end up tired of the stigma that your origin holds. At the end of the day, no matter where you come from, you might end up being part of this clash between cultures.
At the same time, travelling appeals to all of us. Taking a spontaneous journey, leaving our everyday life behind to recharge our batteries is indeed one of the advantages of living in 21st century. But the freedom comes with a condition: tolerance towards people from other cultural backgrounds.
In cities such as London, escaping from the daily hussle can be done within the city as it offers thousands of opportunities not only to get closer to new environments, but also to enrich your knowledge about different cultures and traditions.
This idea inspired two globetrotting entrepreneurs to set up a business that will not only bring them income in this competitive job market, but will also give them a chance to educate their community and transform it into a more tolerant one.
Deborah Chatterjee and Caroline Bourne co-founded Shared City, a social enterprise that organises in-town trips within London, with the idea to bridge the gaps between communities. As they both come from mixed backgrounds, they believe that we need to appreciate diversity and turn it into strength.
"Growing up in such a multi-cultural city and both having multi-cultural families influenced us a lot. We realised that so much misunderstanding between people is because presumptions are made about people's cultures," Deborah says.
Iranian meal at Islamic centre in London
In their blog, the co-founders express their disagreement with today's strong anti-immigration rhetoric. They argue immigrants have always been an inseparable part of the UK nation: "Reading today's papers anyone would think that immigration was a new phenomenon that our politicians may not have heard about before – but the reverse is true: the UK's history is absolutely tied fast to patterns of immigration across the globe. As an island we have been invaded by bounty seekers several times, and we have been seen as a bolt hole for refugees and economic migrants, a place of relative stability, sanctuary and sanity in a world that continues to erupt with new wars and famines year on year."
There are many more reasons why historically the UK has been the destination for many migrants. Colonialism and the following migration of Commonwealth citizens in the 1950s and 1960s contributed to multicultural Britain. According to academia, the 1970s were the heyday of cultural diversity as ethnic minority initiatives were spread across the country. The successful British economy is also a significant factor which still encourages foreigners to join the 6 million foreign-born working people that currently live in the UK. The joint expansion of the US and the UK as global economic leaders and the increased use of English as an international language further justifies why Britain is attractive not only for people who would like to earn more money, but employees and students who seek better educational and professional opportunities.
But despite this multiculturally rich past, teaching individuals tolerance within the country is more easily said than done. Deborah Chatterjee admits Shared City is competing for people's free time.
"There's so much to do in London already, so we've got to convince people to come on our exciting tours."
What the enterprise is offering is a tailor-made tour where you will emerge yourself in another culture while having a lot of fun. The most successful one so far, according to Deborah, was the Gujarati India tour, because it involved visiting a temple, learning to cook delicious vegetarian food and learning a classical Indian dance, an experience that enables the visitor to travel, at least mentally, to the heart of India.
The co-founders of Shared City also mention they are extremely happy that embassies in London are successfully cooperating with them and stimulating the intercultural dialogue which is an important prerequisite for a peaceful life in a megalopolis as big as London.
So next time when you are walking down the streets curious about someone's traditions or language, why not initiate a discussion or find a way to understand the background of this person who might take you on a journey around Europe – or even further.