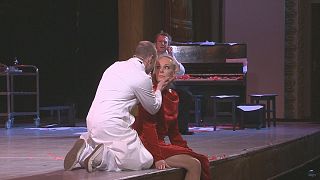 Now famous for hosting the 2014 Winter Olympics, the Russian Black Sea resort of Sochi is also making a name for itself as the host of the annual Winter International Arts Festival.
For its eighth edition, organisers decided to bring together different musical genres from around the world.
The festival's artistic director is Russian conductor, violinist and violist Yuri Bashmet, one of Russia's most outstanding musicians.
The 62-year old maestro himself was at hand for workshops throughout the festival: "The idea is not to scare away young musicians but to reassure them that they have made the right choice," he said.
Guests at this year's event included Roby Lakatos and his ensemble as well as Andrey Konstantinov and his Terem Quartet.
Dubbed the "devil's fiddler", Roby Lakatos comes from a prestigious family of violin players in the Hungarian tradition. Renowned for his mix of classical and gypsy music infused with jazz, he has performed at prestigious institutions around the world with some of the biggest artists in classical and jazz music, including Martha Argerich and Stephane Grappelli.
"Mine is gypsy music mixed with jazz and classical music, so what I did 25 years ago was to invent a completely new style of music," he said.
The Terem Quartet from Saint Petersburg is famous the world over. Since its creation in 1986, the ensemble has performed more than 2000 concerts in 60 different countries.
"We mix different styles. Although we use folk music instruments typical of Russian culture, our inspiration is broad and we play in our own way. So we tell our own stories and fables," said Andrey Konstantinov.
Meeting for the Festival in Sochi, the two ensembles fused for a unique performance at the Zimniy Theater concert hall.
Specially created for the Festival, 'Carmen Fantasque' was a musical version of Georges Bizet's classic, a combination of ballet and theatre. Through the mix of genres, the stage director wanted to explore the different sides of the main male character Jose and offer a new take on the 19th century work.
"The modern-day Jose is not just a simple soldier, he could also be an intellectual, a film director or a businessman – stories like this happen all the time, we see them on TV. So we thought that this kind of charged atmosphere, on stage, was ideal to tell the story," said Pavel Safonov.
Bolshoi prima ballerina Ekaterina Shipulina was among the cast members. She said she enjoyed working on this kind of cross-genre project, adding that there was little time to rehearse.
"This is an unusual performance, a symbiosis between opera, ballet and drama. The performers are all highly-trained professionals, and we're going to experience a great adventure of improvisation together," she said.
The production of Carmen brought together some of Russia's best-known actors including Olga Lomonosova and Evgeny Stichkin as well as world-renowned singers like mezzo soprano Nancy Fabiola Herrera currently at the Metropolitan Opera in New York.