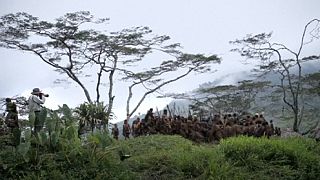 The "Salt of the Earth" directed by Juliana Ribeiro Salgado and Wim Wenders, is one of the documentaries nominated at the 87th Annual Academy Awards.
The film tells the story of photographer Sebastao Salgado, who for forty years has been traveling across continents capturing some of the major events of recent history, including international conflicts, famine and exodus.
"You never know whether you'll win or not", said Wenders. "It's not about whether you deserve it or not, it's about how the Academy makes its choice. The Americans have different tastes, it's about different things. With the Buena Vista Social Club -everybody said to me 'you're going to win that no question', but I didn't. And that's why I go there not expecting anything. We won't win, we don't have a chance, so let's seize this non-existent chance".
Follow our live online coverage of the Oscars ceremony from midnight CET on Sunday February 22
Wenders said the key to turning Salgado's life in to a compelling film was realising the photographer's gift as a compelling storyteller.
"Citizen Four", directed by Laura Poitras, is a front-runner for an Oscar, having landed on several critics' top ten lists, sparking a global debate about government surveillance programs.
The film follows Poitras' and investigative journalist Glen Greenwald's travels to Hong Kong to interview former contractor Edward Snowden, the man who leaked so many disclosures about the scope of the USA National Security Agency.
Poitras was honoured by the Directors' Guild of America, which awarded her its annual prize, often a leading indicator of the winner for best documentary.
There are also good predictions too for "Virunga".
Britsih filmmaker Orlando von Einsiedel did not expect a civil war to break out when he arrived in the Democratic Republic of Congo in 2012 to profile the Virunga National Park's plans for tourism and economic development.
But that is exactly what happened. And in Virunga a brave group of individuals risk their lives to save the last of the world's mountain gorillas during the conflict and scramble for Congo's natural resources.
"Finding Vivian Maier", directed by John Maloof, and "Last Days of Vietnam" by Rory Kennedy, are also in the running for Best Documentary Feature.