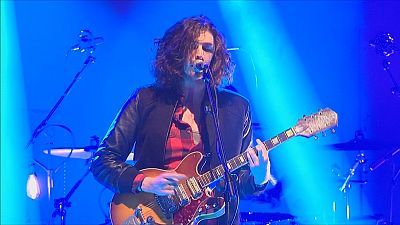 He may have failed to pick up Song of the Year at the Grammy Awards, but Irish singer-songwriter Hozier is one to watch.
His hit 'Take Me To Church' was named most viral song of 2014 by music streaming service Spotify and has been viewed more than 100 million times on YouTube.
It has reached number 2 in the United States and sits in the same position in the UK singles chart.
'Take Me To Church' was written out of frustration with the Catholic Church and its stand on homosexuality, says the young Irish artist, who adds much of his album centres on sexuality.
"It's one of the most vital parts of our being a human being, it is the reason we exist if you look at it from a kind of mechanical, biological point of view," he laughed.
"And I suppose a lot of it is symptomatic of being a young man. I don't know, it's just reflecting on love and sexuality and sometimes the embattled nature of it when it's faced with traditional values and stuff."
For now, Hozier is concentrating on his next concert dates across the US and Canada. He spent most of last year touring, and the year ahead looks to be just as busy.
Two recent sold-out gigs at London's Shepherds Bush Empire earned him critical praise and five star reviews in the British media.
"You really get a re-charge when you play a show and you feed off that energy, and you kind of remember, when you see somebody else enjoying your work too, it reminds you of what you might have enjoyed once (laughs)," said the young artist.
Hozier, whose full name is Andrew Hozier-Byrne, is also up for International Male Solo Artist at this year's BRIT Awards.
Despite living out of a suitcase, he says he still can't believe his luck: "It's a hectic schedule and it'll be a busy year ahead but I am still kind of in awe of what's been going on this last year and the opportunities that I have been lucky enough to have."
Hozier is currently touring North-America and will return to Europe in June.