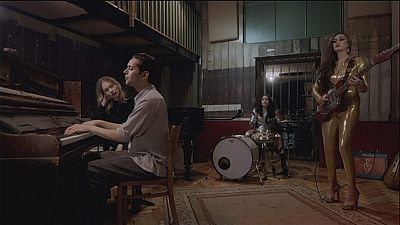 Three years after their critically acclaimed sophomore album, family musical act Kitty, Daisy & Lewis are back with their unmistakable retro style.
Faithful to their vintage sound, the band recorded their songs on analogue gear in an old London curry house.
Their third album continues in a similar vein to the first two, mixing genres and styles as varied as blues, country, disco and rock and roll.
"I think because they're songs that we've written and they're about our experiences and stuff they're kind of more true and a bit more emotional, but I think it's kind of a fun album as well," says band member Kitty Durham.
"It's definitely more of a studio album, I think," says her brother Lewis. "And also because we had Mick Jones producing it. Whereas the last two albums were more kind of like, let's play it, put the mikes up and that's it, this was done in kind of a more modern way, if you like, so it's really a different kettle of fish."
Born into a musical family, the siblings – who between them play anything from a ukulele to a banjo or a trombone – worked with early fan Mick Jones of 'The Clash' on the new album.
Jones produced it, spending months rehearsing with the band in their home.
"He's brilliant. He's just so relaxed and positive about everything," says band member Daisy Durham. "He doesn't want to change anything you do musically, he just wanted to sort of keep the magic alive and keep us relaxed and make sure that we just did what we've always done really, so yeah, it was just great having him around. He was like a part of the family in the end."
Kitty, Daisy and Lewis have sold over a quarter of a million albums worldwide, picking up some very famous fans along the way including Amy Winehouse, Coldplay and David Lynch.
The band will be touring Europe until March before hitting North America in early spring.
Their third album 'Kitty Daisy and Lewis The Third' is out now.